The Simpsons: Springfield Monorail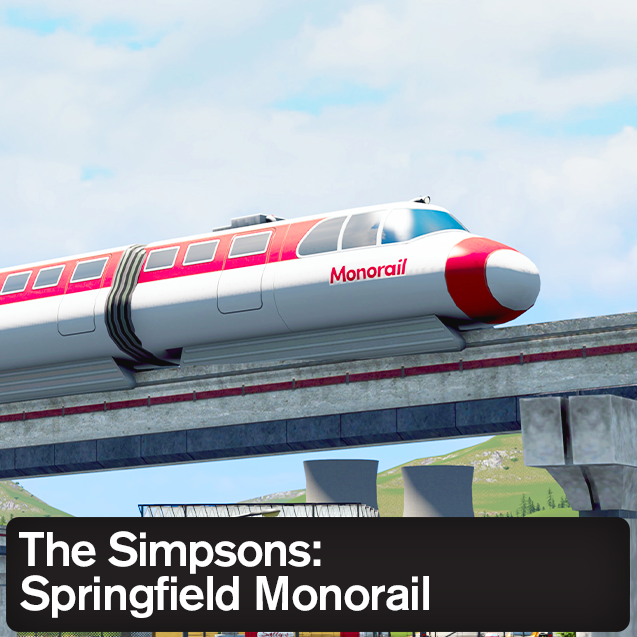 Description:
There's nothing on Earth like a genuine, bona-fide, electrified, 6 car monorail!
As featured in one of the all-time best episodes of the Simpsons, the Springfield Monorail is the perfect boondoggle for your small town with a centralized population to spend way too much money on.
This train is based off of the legendary Simpsons episode "Marge vs. the Monorail", and features exaggerated, cartoon proportions blended with realistic design elements and high fidelity textures. It is as close to screen-accurate as I could make it, considering the Monorail changes proportions in nearly every shot that it is featured in, and has depictions in newer episodes and Simpsons media with an almost entirely different design.
The model features submeshes and custom shaders to make sure the train doesn't look "dirty" like the vanilla monorails, while retaining the rail clamps below the top of the track. It only comes in the Simpsons red color, and uses vanilla sounds.
FAQs
Where are other monorails?
Brockway, Ogdenville, and North Haverbrook
I hear those things are awfully loud
It glides as softly as a cloud!
Is there a chance the track could bend?
Not on your life, my online friend!
What about us braindead slobs?
You'll be given cushy jobs!
Were you sent here by the devil?
No good sir, I'm on the level!
The ring came off my pudding can!
Take my penknife, my good man!
I swear, it's your city's only choice! So click "subscribe" and raise your voice (in the comments!)
MONORAIL!