Puck building (4×4 High res Growable lvl 3)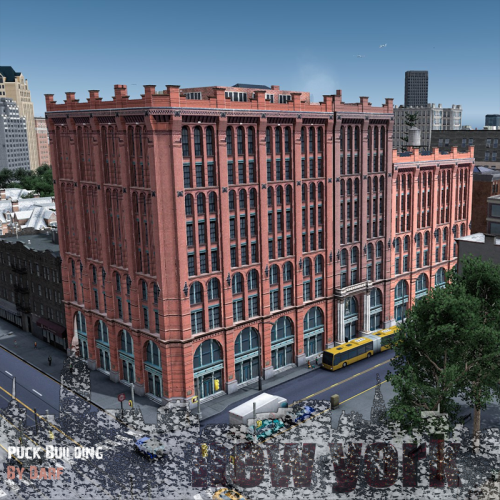 Author:
Darf
Last revision:
17 Sep at 22:32 2017 UTC
Description:
Please leave a vote or comment if you download this asset! This is a 4×4 high res lvl 3 building.
About the model
One of the first buildings I made and put on the Workshop were the three instances of the Puck Building. I've started to update it quite a few times, but in the end a remodel was better. You can always follow my assetcreations on the Simtropolis forums: http://community.simtropolis.com/forums/topic/68841-darfs-buildings-the-dorilton-new-victory-theater/ or on sketchfab: https://sketchfab.com/sannie01
This model has about 2080 tris and a 4096×512 texture , with a diffuse, shadow, normal, illumination, color and specularmap.This model has a custom LoD, which is about 68 tris with a 512×128 texture, with a diffuse, color, specular, and illumination map. This building shares it's textures with the other Puck buildings.
RICO
If you want this building added to your RICO buildings, add it in the settings menu, under growables. I recommend using the realistic population mod, this will calculate the amount of occupants in the building.
About the building
The Puck Building is a historic building located in the Nolita neighborhood of Manhattan, New York City. It occupies the block bounded by Lafayette, Houston, Mulberry and Jersey Streets.
An example of the German Rundbogenstil style of Romanesque Revival architecture, the building was designed by Albert Wagner, and was constructed in two parts. The north section was built in 1885–86, and the south addition in 1892–93. The front of the building – on Lafayette Street – was relocated in 1899 when the street – then called Elm Place – was widened, this was supervised by Herman Wagner. The building was rehabilitated in 1983–84 and further renovated in 1995 by Beyer Blinder Belle. The building sports two gilded statues by sculptor Henry Baerer of Shakespeare's character Puck, from A Midsummer's Night Dream, one on the northeast corner at Houston and Mulberry, and one over the main entrance on Lafayette
The building was constructed as the printing facility of J. Ottmann Lithographic Company as a seven-story structure, with a nine-story structure added on in 1892.
The building was the longtime home of Puck magazine, which gave the building its name; Originally founded in St. Louis in 1871, the magazine moved into the building in 1887 and remained there until it ceased publication in 1918.
A June 1887 fire caused significant damage, estimated as high as $30,000, including water damage to the editorial rooms used by Puck magazine. A fire in November caused $50,000 in damage after a can of turpentine caught on fire inside a finishing room where workers were producing Christmas cards.
The building later housed numerous independent printing firms and related printing services such as typesetters and a printing ink company, Superior Printing Ink. The odor of printing ink permeated the building for many years. An office stationery company, S. Novick & Son, once occupied the second floor. Notable among that firm's salesmen was Alger Hiss, the former Assistant Secretary of State, who was brought down in a spy scandal in the 1950s.
Changes
18/09/2017
– Total model overhaul: model is now 20 meters lower, like the lower part of the real building; 30,5m.
– Changed asset from lvl 5 to lvl 3
– Reduced model by 6000 tris, increased a lot of geometry detail.
– Reduced texture map from 2048×2048 to 4096×512, increased texturedetail.
– Added custom lod.