Stadler KISS – Caltrain (7Cars)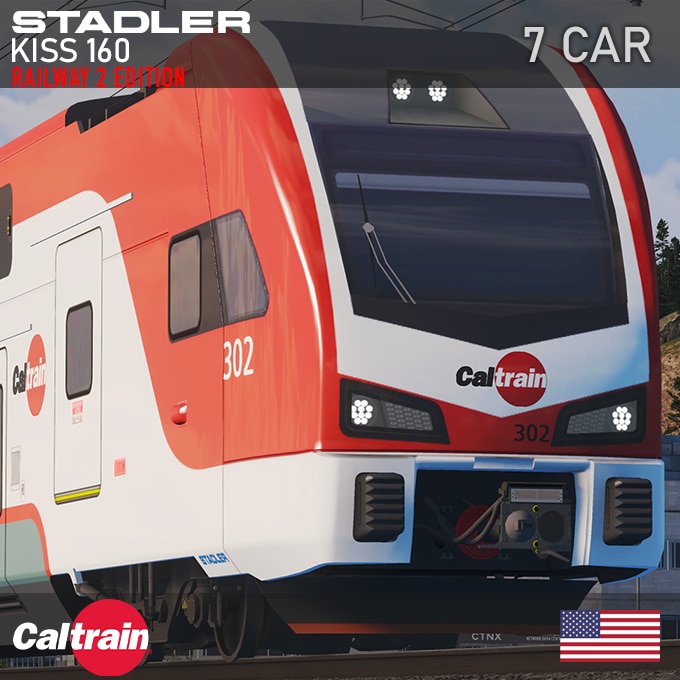 Description:
Railway 2 Variant
Stadler KISS USA
The KISS160 is a double-decker regional train. It gets its name from the German for comfortable innovative speedy suburban train. As a regional train with a high passenger capacity, the KISS has been deployed between western Europe and the Ural Mountains since 2010 – and is set to take to the rails in the USA soon too.
Stadler designed a custom KISS trainset based on the requirements of Caltrain, which started their electrification program for their existing railroad corridor in Bay Area in 2016. KISS USA variant comes with larger mainframe, new wheelset, higher pantograph. KISS USA is also capable to reach up to 180kmph, unlike its European counterparts that are limited to 160kmph.
KISS is being manufactured in Stadler's Salt Lake Utah factory. Train sets originally featured 4 entry points for different platform standards, current operational sets had their high entry doors replaced with emergency exists, which to be retrofitted once high-speed rail reaches to USA.
2023 Remake
Original KISS model was made in 2018 and it was my first USA specific train asset. Since then my skills improved, quality standard changed and Railway 1 & 2 were released. With these in mind, I remade KISS USA from scratch with better references and blueprints that now exist, since the train was built and in service.
2023 Remake is sponsored by OACyberiad.
This is the variant compatible with Railway 2, that has accurate wire height for American tracks. Vanilla variants can be found links below:
Vanilla Variant, 4Car
Vanilla Variant, 6Car
Features
– KISS USA
– Contains 2 lead cars, power unit, intermediate coaches
– Animated articulations, first introduced to Cities Skylines back in 2018, with this train as a feature.
– 86 people per trailer.
– Directional headlights with Additive Shader
Texture and Material Share
– Entire train set share same texture set and materials;
– The final load on RAM should be around 7MB.
Keywords: REV0, REVO, Stadler, KISS, Caltrain, Electric, Multiple, Unit, double, decker, bi-level, train