Kaukaz Bratsk Garbage Dump truck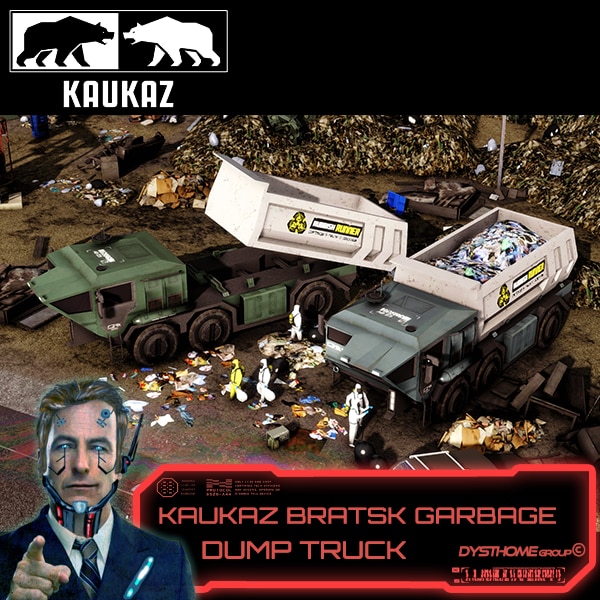 Description:
"This bad boy burns through as much fuel per hour as you'd need to heat an entire megablock. And let's face it – it's big and ugly as a megablock, too. "
Lore :
The Soviets may not produce world-class supercars, luxury sedans or cozy family cars, but their military-grade vehicles are second to none. Anyone who has had the pleasure of sitting behind the wheel of a Kaukaz Bratsk can attest. This behemoth of Soviet engineering wields a gargantuan engine but, despite its enormous size, can be piloted smoothly in damn near any conditions with a tank in tow. The disadvantages? It can't fit on city roads… And it smokes like a tire fire.
Requirements :
– Prop anarchy : the light submesh (of the tail light or the number plate) require additive shader contained within this mod, and you should have it anyway.
– Loading screen mod : All asset share the same texture, this mod allow to charge only once the same texture so it reduce performance impact, it's a must have mod outside this asset.

[discord.gg]
---
Keywords : Props, sci-fi, dystopian, futurist, futuristic, science-fiction, cyberpunk 2077, street, decoration, oil industry, heavy duty, blade runner, Dysto-Guy
---
Cyberpunk 2077, including its visual components, characters, storylines, artwork, animations, designs, items, music and sound effects, dialogue, graphics, computer code, user interface, look and feel, game mechanics, gameplay, audio, video, text, layout, databases, data and all other content and all Intellectual Property Rights (defined below) and other legal and exploitation rights regarding them, are either owned by CD PROJEKT RED or we license them from third parties. -CYBERPUNK 2077 – END USER LICENCE AGREEMENT