Funicular Station Tracks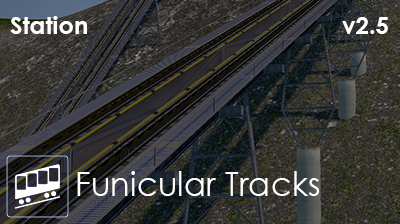 Description:
First Funiculars of Cities Skylines
Description
This is a new road type developed on train network; funiculars. I was long time planning to develop funiculars but with road editor it was much more easier. Refer "Funicular Track" asset for any discussion.
Technical Details
Custom made funicular network.
Maximum operation speed: same as default train tracks.
1/3 construction price
Real life gauge width; 1m that is general in funiculars.
3rd rail for extra traction; ABT cog rails.
Custom ground, elevated and bridge segments.
Side Notes
There is a downvote fairy in workshop, who is downvoting every vehicle asset that gets released not done by him. If you like this model, make sure to upvote it.
I also urge you to read my Q&A thread.

https://www.paypal.me/REV0CS
Legacy Tracks
It is possible that, from update to update your gamesave might go broken. In that case, unsub these tracks, use offline assets provided below, load your game delete your tracks and resub this one again.
Legacy Tracks V1.0 / Initial Release: http://www114.zippyshare.com/v/CmeiTfnB/file.html
Legacy Tracks V2.0 / Update: http://www114.zippyshare.com/v/HUdQF86b/file.html
Keywords for Workshop research: Funicular, train, ABT, cog railway, narrow gauge, stoosbahn