Taxi Zentrale / Taxi Depot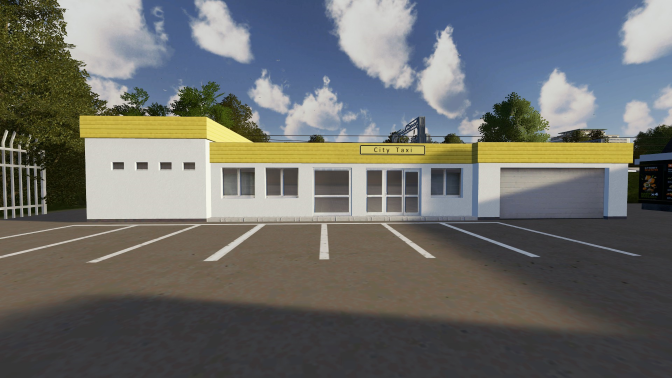 Description:
Taxi Zentrale / Taxi Depot by Yosh
Single-storey commercial building. Customer room with offices, social wing (left) and workshop (right).
The asset fulfills the function "Taxi" of the "After Dark" DLC. The total size of the asset is 3×4. The building is located in the rear quarters, so that with the help of "Move It" there is scope for the distance to the street. Note that spawned vehicles always drive to the closest road. If the path through the garage door in front to the street is longer than to a possible street in the rear, the vehicles drive through the rear wall. You have to consider that.
A rough guide for this asset in terms of architecture and design is a car rental company from Paderborn. The motivation for the creation is based on the fact that there are very few assets with the "Taxi" function. First of all, I want to increase the variety of corresponding buildings. Secondly, this asset is free of props, so that there are more diverse variations in terms of design.
The total effort for this asset is about 10 hours. Small buildings can be processed much faster both with UV mapping and with regard to technical maps.
Thank you very much "SvenBerlin" for technical assistance and recommendations for correction.
With the metal roof edging you can make individual color adjustments with the help of "Painter".
Größe: 3×4, Verts: 226, Tris: 434, LOD-Modell.