Campus Arts Orange Tree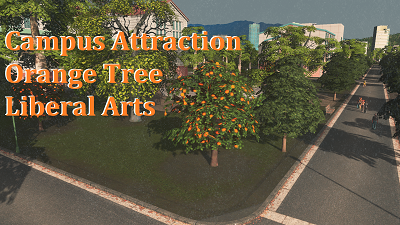 Description:
Campus Arts Orange Tree – by Spear1222
Struggling to beef up that university campus attraction score?
Don't want to spoil the aesthetic look of your lovely campus by placing twenty-odd of the same (#2) statue?
Then try a tiny, 1×1 tile fruit tree instead. Here is the Orange Tree, made to fit into the itsy-bitsy spaces of the Liberal Arts Campus. The colour of the fruit chosen to match the roofing of the specific campus. Well, it is all about art. This tree has the same Campus Attraction value as the Number 2 Statue, (Base 100 before multiplyiers.) and by no means looks repetitively silly when placing plenty about the campus to beef up that attraction score.
And, hey, if you're all about giving your uni students the Free Lunch Policy, then give them a free fruit dessert as well. Just one pluck away from the goodness! So tell those students they can pluck right off… Ahem.
Found in game in the specific campus type it enhances.
Snaps to both roadways and pathways within the specific campus area.
See second picture above for more details on the asset's other default stats.
Find the Apple Tree for Tech Campus and the Pear Tree for Trade Campus by clicking on my Workshop name tag.