Colliery Buildings (Industries)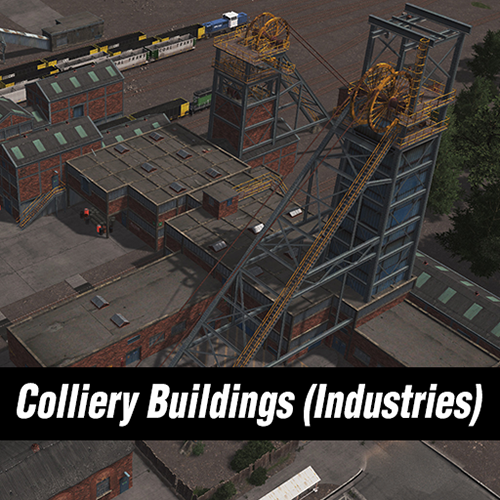 Description:
A complete set of functional mining buildings for the Industries expansion. Included is an industry area main building, maintenance building, two production buildings, two processing buildings, and three storage buildings. Despite their name, they will extract and process ore.
Decorative versions (and extra decorative buildings) are available in my colliery collection. The decorative and functional versions will not conflict, so you can use both at the same time. Please check out the other assets if you want to build a detailed mining works!
---
The buildings have no props or lot detailing. Their stats are similar to the template buildings which they are based on, with some small modifications. For example, the main building will not change its appearance based on the industry area level.
The "headframe cap" production building can be hidden inside larger buildings to make them behave as functional "mines", just make sure they still have a road connection. You can also place them underneath the decorative headframes for different types of winding towers.
---
There is a balance between a high level of detail and performance, with reasonable tri counts and a 2k texture set shared between my other colliery assets.
Please use Find It and Move It mods to easily find, place, and adjust the buildings ingame.
Loading Screen Mod is a requirement to benefit from the shared textures.
Otherwise, the same textures will be loaded into memory multiple times, wasting ur RAMs.
---
If you find my assets useful and want to show support you can donate with PayPal – thanks![www.paypal.me]