Modular Street Parks Parking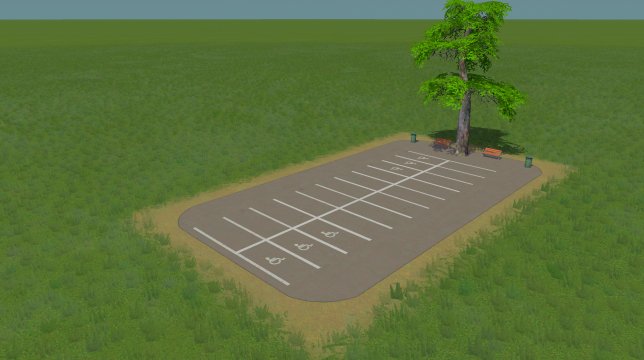 Description:
Street Parks Parking by Populous
Unlike most parking lots, people will gather and talk by the tree counting as visitors, drawing Tourists and adds activity to what would be an ordinary parking lot.
If only you could build a park in any combination you want? Oh, you can with these 4×2 parks that work together to form your Favorite Park. You can lay out tables, Statues, Pavilions, trees, parking any way you want.
The parks are balance and the more you add, the higher visitor draw so combining the parks is not a cheating the game. Cost and maintenance will not drain your budget either.
Yes, absolutely, Thumbnail included for easy identification from the menu system
You may also enjoy these Modular Parks (4×2):
Parking http://steamcommunity.com/sharedfiles/filedetails/?id=504128819
Pavilion http://steamcommunity.com/sharedfiles/filedetails/?id=504128944
Rest Room Rest http://steamcommunity.com/sharedfiles/filedetails/?id=505176997
Rider Statue http://steamcommunity.com/sharedfiles/filedetails/?id=504129043
Tables http://steamcommunity.com/sharedfiles/filedetails/?id=504128721
Trees http://steamcommunity.com/sharedfiles/filedetails/?id=504129171
You may also enjoy these Modular Parks (1×4):
BBQ http://steamcommunity.com/sharedfiles/filedetails/?id=503579907
Grassy Area http://steamcommunity.com/sharedfiles/filedetails/?id=503582275
Gravel Area http://steamcommunity.com/sharedfiles/filedetails/?id=503582976
Kiosks http://steamcommunity.com/sharedfiles/filedetails/?id=503583524
Parking http://steamcommunity.com/sharedfiles/filedetails/?id=503585005
Paved Area http://steamcommunity.com/sharedfiles/filedetails/?id=503586040
Pavilion http://steamcommunity.com/sharedfiles/filedetails/?id=503586682
Playground http://steamcommunity.com/sharedfiles/filedetails/?id=503587393
Rest Room Rest Area http://steamcommunity.com/sharedfiles/filedetails/?id=505178809
Rider Statue http://steamcommunity.com/sharedfiles/filedetails/?id=503587966
Tables http://steamcommunity.com/sharedfiles/filedetails/?id=503588548
Trees http://steamcommunity.com/sharedfiles/filedetails/?id=503590546