Park Avenue Exclusive A1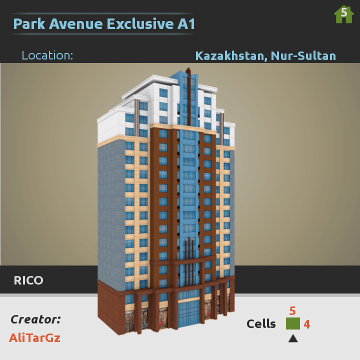 Description:
Hello, dear subscribers and other game fans!
This is a my new project. Residential complex – "Park Avenue Exclusive" in Nur-Sultan (Astana) city.
This complex will consist of several buildings.
Type of building: Highrise RICO 5th lvl
Homes/Family: 60
Construction cost: 6200
Color varitions: No
—————————————————
Model info:
Tris = 6048
Texture size = 1024×1024
Texture types = d, i, s, a
LOD info:
Tris = 218
Texture size = 256×256
Texture types = d, i, s
——————————–
If you like my building, please subscribe, write a comment and put it like.