Canal+ HQ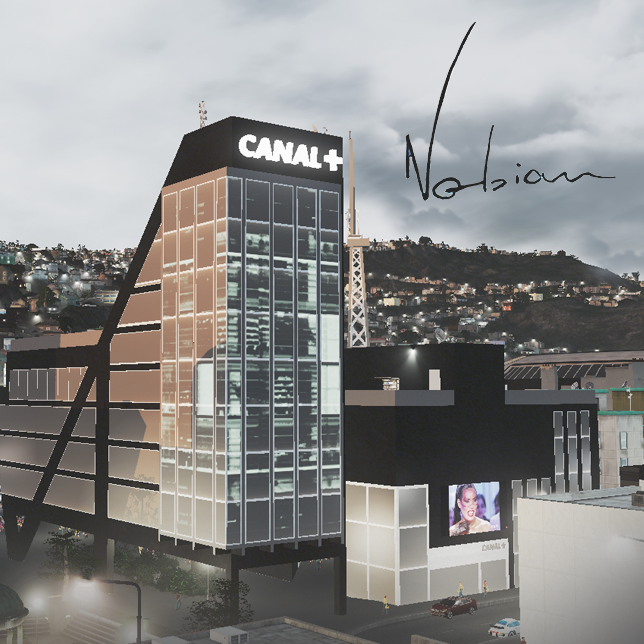 Description:
>>> You need to subscribe to 3 PROPS (2 LED billboards and 1 animated screen) to complete its best looking aspect <<<
The Canal+ HQ is a fictional building of the famous french tv channel.
I just kept the stilt, and the footbridge elements from the original HQ in Boulogne-Billancourt, (Paris).
"L'esprit canal", "the canal spirit", is globally known for the freedom of its programs, dark and absurd humour, of crazy talk shows from the late 80's to the early 2000's. The two billboards at the back of the building are some of the most famous show of the channel "Les Guignols de l'Info" and "Nulle Part Ailleurs". On the animated screen, you can see others extracts from "Les Nuls", "Salut les Terriens", "Groland", or "Burger Quiz".
Sadly, this spirit faded away last decade. Nevertheless, Canal+ still a famous french tv channel for series, sports programs, co-production, acquisition and distribution of audiovisual productions.
The dark mineral facade keeps the graphical charter of the company, black and white. The triangular global shapes are more due to a personal pleasure.
You will need the High-Tech pack to find it, it's classified as a Television Station.
I would like to thank a lot Stringer Bell for its precious advices for the creation of the long sequence of animated screen!
About the asset
Type of building: High-Tech Buildings, Television Station
Size: 7X7
Model info
Tris: 4473
Texture size: 2048×2048
Texture types: diffuse, lightning and specular
[+ 3 LED props required]
Enjoy!