Ryde – NZ Bus Terminal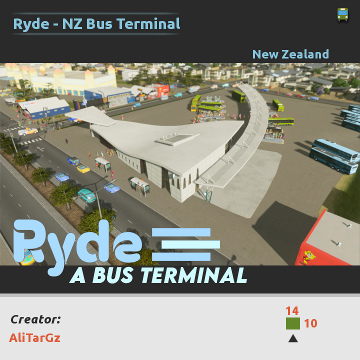 Description:
Ryde A Bus Terminal

Ryde is a fictional transport company designed to create a generic brand across all of the transport options in the game.
Ryde A Bus is the Passenger Bus branch of their transport company focusing on moving citizens through the cities on their fleet of buses.
This bus terminal is real building placed in Hamilton, New Zealand.
I created it special for project – Ryde.

I also recommend to use this bus stop:
https://steamcommunity.com/sharedfiles/filedetails/?id=2421143733
Because I created it special for this Bus Terminal.
———————————-
NOTICE!
Please pay attention to the second screenshot, by default buses can enter from almost all directions.
This is due to the fact that all bus stops and platforms are located at different angles, and not parallel to each other.
But you can prevent buses from leaving and entering from all directions except the front if you build roads around the building, and then prohibit traffic on those roads using the TMPE mod.
———————————-
Type of buildings: Bus Terminal
11 Bus stops.
Size 14×10 cells
Construction cost = 24000
Maintanance cost = 2400
Google maps address: Hamilton Central, Hamilton 3204, New Zealand.
—————————————————
Color varitions: No
—————————————————
Ryde – NZ Bus Terminal
General characteristics of assets
Model info:
Tris = 3854
Texture size = 2048×2048
Texture types = d, i, s, a, n
LOD info:
Tris = 216
Texture size = 256×256
Texture types = d, i, s, a
[discord.gg]
——————————–
If you like my building, please subscribe, write a comment and put it like.


Donate [paypal.me]