Leaky Vancouver Condo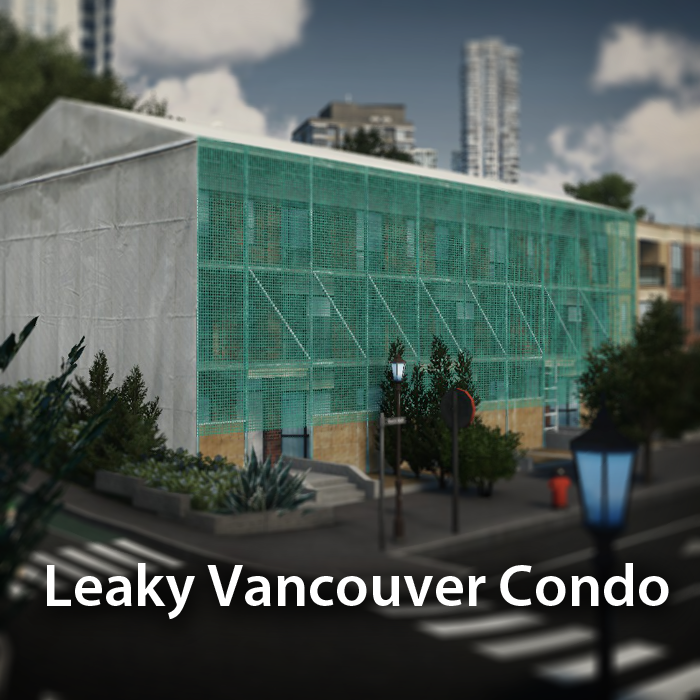 Description:
A classic leaky Vancouver condo, only 4 years old and completely riddled with rot, mould and rust. The scaffolding and green safety net is a comforting and very familiar everyday sight for Vancouverites.
slight overhang on 1 side, works best when placed with plop the growables and move it
3×3 high density residential
1024×512 diffuse, normal, spec, color, illumination
main mesh 3557 tris 1024×512, LOD 25 tris 128×128, scaffolding submesh 1904 tris 1024×512
4 colour variations
asset share textures with other condos in the collection, use Loading Screen Mod to enable texture sharing
Models and textures done by Smilies; cannot be re-uploaded without permission authorized by Smilies.
[paypal.me]
[www.patreon.com]
Thanks to this month's patrons: Andrew Napurano, Andy Cheung, assumed risk, Brian Haugstrup, bstoudemireORD, Chance Lloyd Burton Arbisi, Charlie Zane, Chris, D'Andre Flowers, Dennis Scott, Dr. Feinsoda, Dudemeister, Erik deValk, gallopingcomputer, GildedAge, GlobeGrape, HIROMASA TANAKA, Joel Halpern, Jonathon Venitz, Keith Byars, kent gallant, Lawrence Pitts, LinkingDan, Matthew McPhail, Maxwell Hayes, Michael Barone, Mike Kruki, Mirko Gebauer, Nelson Alvarado, Nic Gahan, nick harris, Nicolas Wiggins, Oleg Leirich, Quadriga10719, Rob Cepelak, Sdeez Elder, The Cycling Llama, Tim, Trevor Kollmann, trey cowherd, Tyre Fant, UrbanArchitect and YT