Chirpy-chan Beach Day Props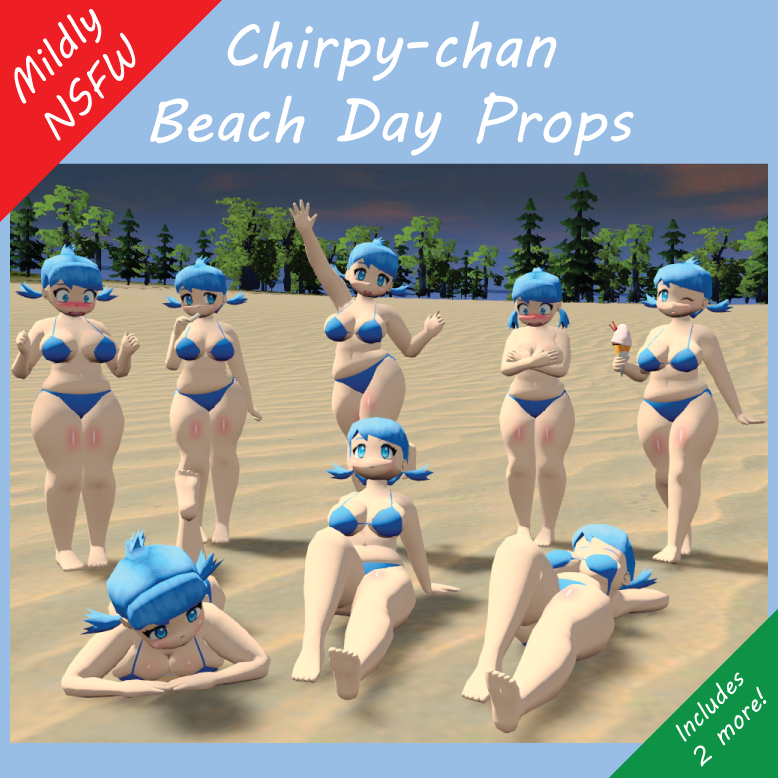 Description:
More wholesome content. Warning: Mildly NSFW.
Spruce up you beaches with this set of beach props featuring Chirpy-chan!
This set includes:
5 standing poses
3 lounging poses
1 floating bikini top
Bonus: 1 hot spring pose
Details:
3700~4000 tris (LOD: ~1000 tris)
1024×1024 textures (LOD: 64×64)
Useful notes:
The floating bikini top is actually a floating building, not a prop. This is to avoid needing the After Dark DLC for a floating prop.
Normally, the props can be found in the props menu under common > accessories. The bikini top asset can be found in the parks menu. Use the Find It! mod to find and place them in-game. Just type "Chirpy-chan."
The "bare" prop is best used near the shoreline.
The "hot spring" pose is best used in non-moving water.
Be sure to read the descriptions for each asset.
Other props used in the screenshots:
Waya's JP-QingdaoBeach-RentalStore props
https://steamcommunity.com/sharedfiles/filedetails/?id=2020076626
Niis-ku's Pond prop
https://steamcommunity.com/sharedfiles/filedetails/?id=596295515
Do you like my work? Donate to my Paypal![www.paypal.com]
Tags: anime chirpy chirper beach bikini nsfw thicc