Citylink Genesis Regional Modern Passenger Train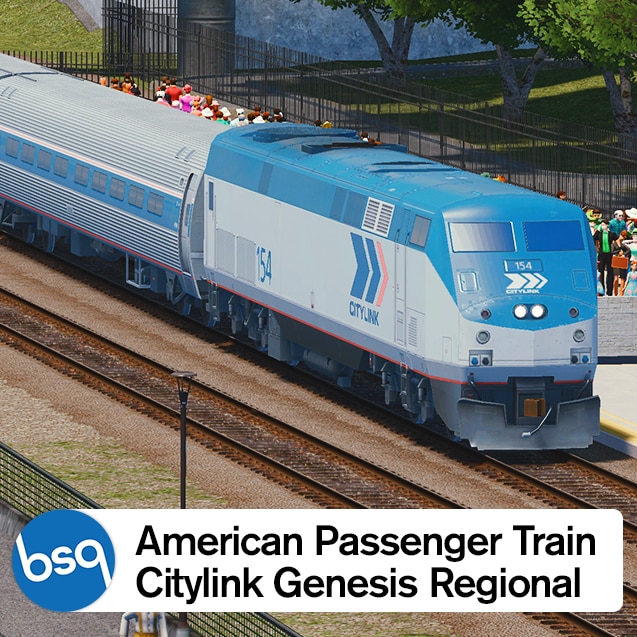 Description:
All aboard, America!
A longtime mainstay for diesel powered regional service in the eastern US, the Citylink Modern Single Level Regional can be occasionally seen in operation all across the United States. This train features a P42 Genesis locomotive with "Cityfleet" cars, modeled and created specifically for Cities: Skylines!
Features
Realistically modeled locomotive and cars from real blueprints and plan drawings
PROPS INCLUDED IN THIS SUBSCRIPTION!
Auto-reversing locomotive makes sure the train will never go backwards!
Custom sound effects, including accurate horn and engine sounds
Custom lighting effects including headlights, marker lights, and flashing ditch lights
Coach and Cafe cars each with prototype-specific model and texture details
5 car train fits in vanilla stations
Realistic capacity based on values for Amtrak Amfleet I cars
Suggested mods for the best experience
Model Stats
Locomotive: 5,999 tris / 1024px textures | LOD: 142 tris / 128px textures
Coach: 6,079 tris / 1024px textures (Shared with Cafe Car)| LOD: 104 tris / 128px textures
Cafe: 6,236 tris / 1024px textures (Shared with Coach)| LOD: 104 tris / 128px textures
Want more?
Check out my American Train collection for more freight and passenger trains for your city!
Special Thanks
Delta 2k5 for Vehicle Effects
Pres for screenshots
Nash Gallo for sound effects