299 park avenue of Manhattan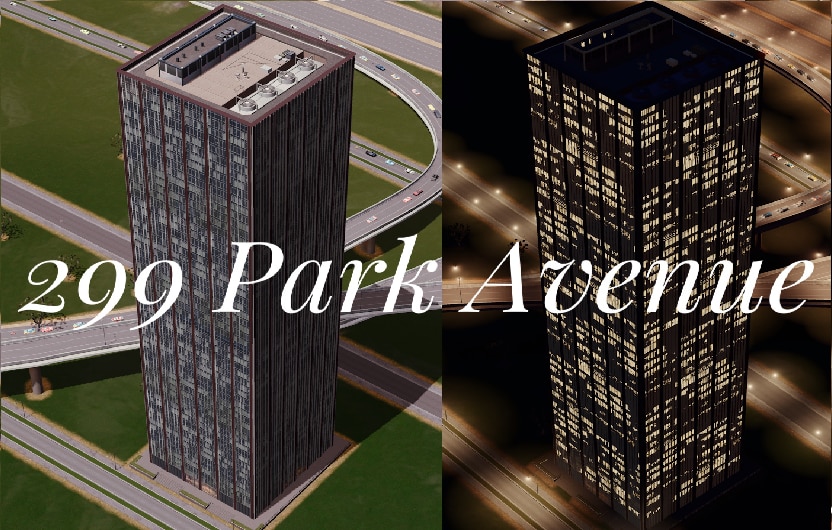 Description:
作者producer:@红米
building level:unique building 5
299 Park Avenue is an office building on Park Avenue between 48th and 49th streets in the Midtown neighborhood of Manhattan, New York City.
Designed in the International Style by Emery Roth & Sons, the building was opened in 1967. It has 42 stories and is approximately 175 m (574 ft) tall. 299 Park is a black skyscraper with alternating shiny and matte thin stainless steel mullions emphasizing its height. The building contains approximately 1.2 million square feet (110,000 m2) of space.
The building was constructed on the location of the original Park Lane Hotel.[3] The building was originally constructed over the primary rail tracks for Metro-North Railroad's New Haven Line, which made the building's construction and engineering highly complicated. The foundation of the building was constructed through "ladder tracks", two layers of railroad tracks, not in platform position. The construction was completed without interfering with the operation of the railroad. In 1980 and then again in 1981, the building suffered damage from large fires—the 1980 fire caused injuries to 125 firefighters.
For much of its history, the building was commonly referred to as the Westvaco Building and was the headquarters of Westvaco. Today, the company's successor, MeadWestvaco, continues to use the building as a regional office. The building was also the home of law firm Debevoise, Plimpton, Lyons & Gates[4] prior to leaving the building in 1983.