Mireo Bwegt (3+3 car)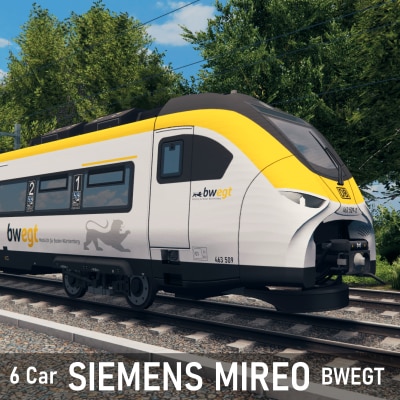 Description:
Siemens Mireo (Bwegt)
The Siemens Mireo is an EMU designed by Siemens Mobility. It is designed to be a successor to the "Mainline" variant of the company's Desiro EMUs. The train first entered revenue service with Deutsche Bahn in June 2020 and was assigned the class designation 463. These units are serviced in Baden Württemberg and are painted with the state-wide Bwegt Livery.
Prop version can be found here
Technical Details
Passenger Capacity:
70 passengers per car
Maximum Speeds:
All variants: 160kmh
Train lengths:
3 car: 70m
6 car: 140m
Other Information:
Texture size: 2048×2048
LOD Texture size: 128×128
optimised textures: all cars use the same texture
Custom LODs
Recommended Mods
Acknowledgements
Credit to Danoir for the awesome screenshots.
Keywords for Workshop Search: Germany, Deutsche, Bahn, DB, Siemens, Mireo, Desiro, Bwegt, Baden, Wurttemberg, Regional, BR, 463