Tram: KVB K4000 NC 2x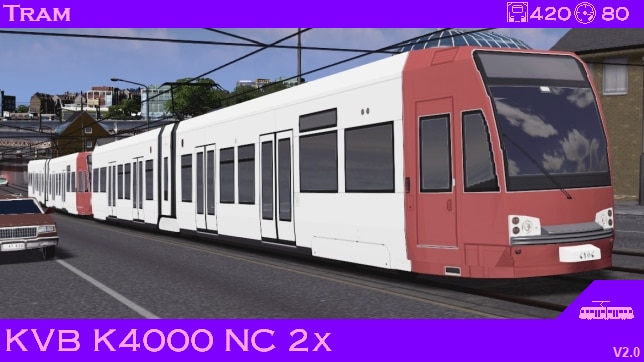 Description:
When Cologne began to transform its tram into a lightrail network, the plan was to equip every single stop with high platforms and run a matching fleet of trains throughout. Very soon it turned out this would take a lot more time and money than expected, and in the early 1990's the railway industry announced it could produce LRVs with a much lower floor now – capable of using the old tram platforms still existing. The decision then was made to divide the network into bundles of high and low floor lines and purchase a full 124 units of Bombardier's new K4000 LRV.
Fast forward again to today, all K4000 are still in service, and with the oldest ones approaching 30 years of age, their replacement by new low-floor LRVs has been announced. So now is a good time to recreate them for Cities:Skylines.
Data
whole train:
Vmax: 80 km/h
Capacity: 420 pax
Tris: 5578 (LOD: 252)
Textures: 2048×1024 DISCA

If you like this mod (or any mod in fact), us content creators would be very thankful if you gave it a thumbs up. It really makes a difference!
Want more?
Tags: KVB Köln Cologne Germany tram Deutschland Bahn train Zug Stadtbahn tram K4000 Bombardier Flexity Swift lightrail