Hunter Brothers Groceries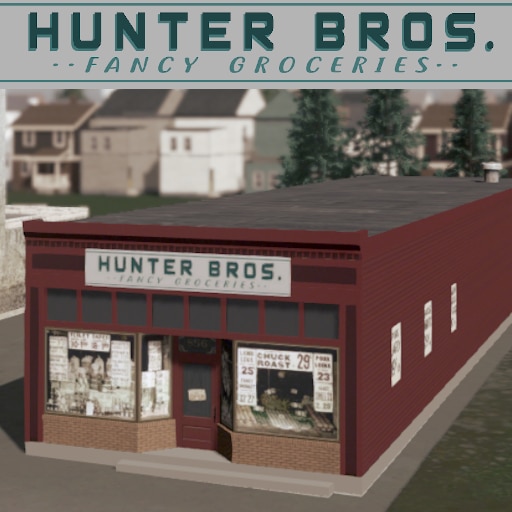 Description:
Hunter Bros. Groceries
When it opened, Hunter Brothers general store was the first of its kind in Oakmont -offering groceries and dry goods, with delivery to the community. The store was opened in the late 1800s by two brothers—the Hunter brothers—and was purchased from Thomas Hunter in 1947 by James Furko.
The Furkos were also farmers, and owned a farm along Hulton Road. The store sold produce and dairy from the Furko's farm, along with a variety of other goods. In later years, they focused primarily on selling specialty meats and cheeses. The store closed in 2002, and is currently sitting as an empty storefront at the corner of Hulton Road and Allegheny River Boulevard in Oakmont, PA.
Some modifications to the actual building have been made for the game including, but not limited to, adjusting to sit on flat land, and adding a loading dock at the rear. The signage is based on one of several that I found, and does not illuminate just like the real thing. I did want to light it with lamps, but I couldn't find any in the workshop that were the proper size/style, and I don't know how to make something that emits light. If anybody knows of a good tutorial, or has any tips, I'd appreciate it.
Please give me a like with a "thumbs up" if you enjoy.
Features:
Level 1 commercial growable (single wide lot) There are no lot or color variations included.
Tris: 809
Textures: 1024 x 1024
_d, _i, _n,_ s
Auto LOD
Model and textures by Bungalow Man, not to be re-uploaded to the workshop in any form without permission.