NZ Overhead crossing 6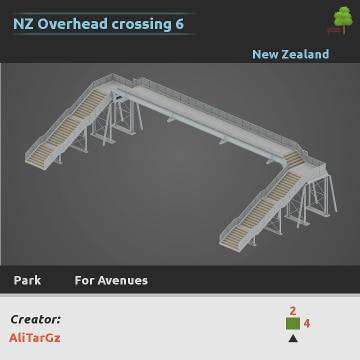 Description:
Hello, dear subscribers and other game fans!
This is a my new great project New Zealand Pack.
This is high poly assets.The model of LOD also is not very lowpoly.
I wanted to create are detaling models of the stairs.
If you think this will put unnecessary strain on your computer, please unsubscribe to this asset.
These crossings are not just decoration, they can be connected to walking paths and Sims will walk along them.
This and previous overhead crossings I found on WRL train line (Masterton -> Wellington).
I create it special for my train stations, but you can use it anywhere. No need connection to road.
You can find it on the park's panel.
Wide steps and a long span. For avenues.
Type of buildings: park
—————————————————
Color varitions: No
—————————————————
NZ Overhead crossing 6
All service parameters = 0
General characteristics of assets
Model info:
Tris = 2812
Texture size = 256×512
Texture types = d, s, a
——————————–
If you like my building, please subscribe, write a comment and put it like.


Donate [paypal.me]