Tiendas D1 – Colombia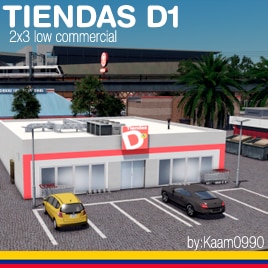 Description:
KOBA Colombia S.A.S, with its D1 Stores brand, was created in 2009 in Medellín, becoming the first discount chain to arrive in the country, with a format that revolutionized the way Colombians market. It has more than 11,677 employees.
endas D1 has 1,300 stores in 24 departments and more than 267 municipalities, covering 74% of the country. Thus, it maintains the leadership in the hard discount model (hard discount stores), with a participation in the basket of mass consumer goods in Colombia of 12% at the end of 2019, according to data from Kantar Worldpanel.
This asset is a Low-Density Commercial
I hope and you like Assets and I would like to know your opinion
I want to thank you for helping me in creating it.
I want to thank Checo Mx for helping me in creating it, here I leave your Workshop
https://steamcommunity.com/id/CHECO_MX/myworkshopfiles/?appid=255710
By:Kaam0983