Tombs mod.1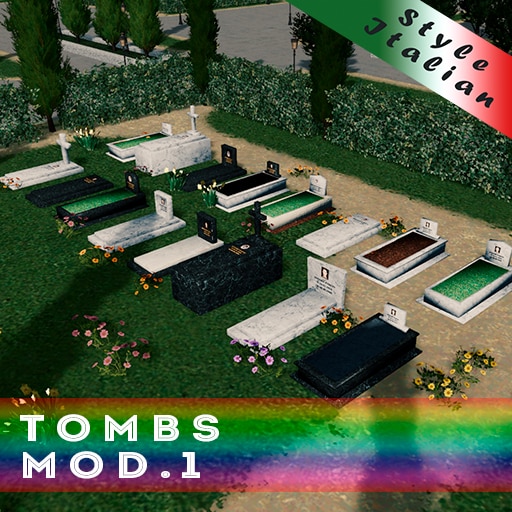 Description:
Series of ground burials. Approaching the said are clearly visible. For this reason I apologize if the model is a little heavier than normal props. Overall, however, the quality suffers positively. To be embellished with flowers as you wish!
In the game I have always found the cemetery sector unrealistic. For this I have created a series of resources, I hope to increase them, to create an area dedicated to dear deceased sims. These are mainly props as they allow them to be positioned more easily in any part of the game. The important thing is that the terrain is as flat as possible. The style is that of Italian cemeteries. To be able to use it fully as a cemetery, it is possible to hide Block Services – Death, for example in the turret or in the church. For the flowers in steam you can find an adequate quantity and quality. I recommend: Small Flowers; Market Flowers Paris; Flower pots – PACK but there are many other very interesting ones. It all depends on your tastes and your imagination!
Have fun.
No DLC required, all vanilla.
Unfortunately, some assets may be heavier than what the individual props allowed but it was impossible to reduce them in order not to lose quality.
tris – 1981
lod tris – 723
main texture – 1024 x 1024
lod texture – 128 x 128
If you like my job and want to offer me a coffee to stay awake while I create assets you can do it here Donate [www.paypal.com] Thanks for your support!