4L2W Monorail Trees Bikes Bus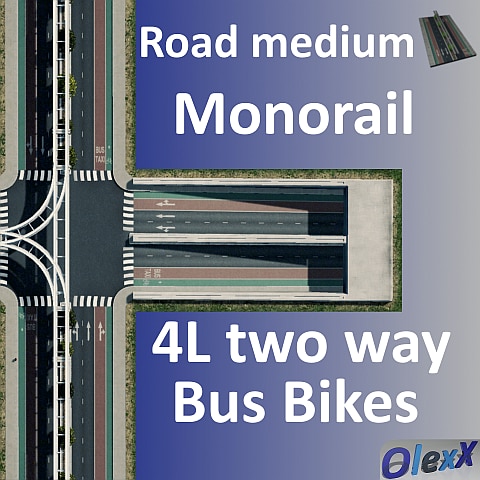 Description:
4L2W Monorail Trees Bikes Bus
(Deutsch siehe unten)
4 lane two-way monorail road plus bus lane, plus bike lane and with trees on the median.
Properties:
4 squares (32m) wide (medium road)
Car speed limit of 50
Monorail speed limit of 100
White lights on the monorail pillars
Bus stop bulges in vanilla red
Versions: ground, elevated, bridge
Tunnelversion like my 4L2W Road Trees Bikes Bus
Because of the bus- and the bikelanes you need the After Dark-DLC. And the Mass Transit-DLC is needed for the monorail tracks.
Enjoy this road.
---
4-spurige Monorail-Strasse zuzügl. Busspur, zuzügl. Fahrradspur mit Bäumen auf dem Mittelstreifen.
Eigenschaften:
4 Quadrate (32m) breit (mittlere Strasse)
PKW-Höchstgeschwindigkeit von 50 km/h
Monorail-Höchstgeschwindigkeit von 100 km/h
Weißes Licht an den Monorailpfeilern
Bushaltestellen-Ausbuchtungen in Vanilla rot
Höhenvarianten: ebenerdig, erhöht, Brücke
Tunnelvariante ist wie meine 4L2W Road Trees Bikes Bus
Wegen der Bus- und Fahrradspuren wird das After Dark-DLC und wegen der Monorailschienen das Mass Transit-DLC benötigt.
Die Screenshots wurden mit den Einstellungen von meinem
European ThemeMix
inklusive der Relight-Einstellungen gemacht. Die Map ist
Cugassdanox
.
Viel Spaß beim Bauen.