Half Timbered Barn Industries DLC Farming Industry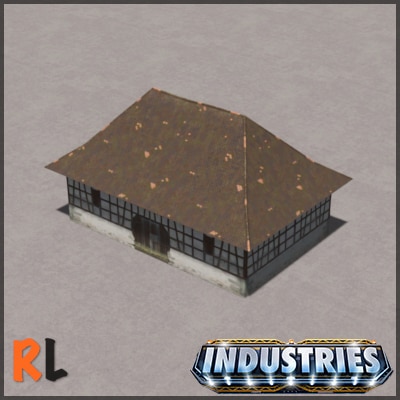 Description:
A small old half timbered barn that nicely fits European farms and rural areas. This building was inspired by a barn in Singen (Hohentwiel), Germany.
In game this is a Industries DLC farming industry warehouse on a 3×2 plot, search for "halftimbered barn", "farm", "industries" or "rl" using Find It!. It doesn't have a colormap and doesn't need any additional props.
For detailed and close up shots you can enable the support beams of the roof by renaming the building. I wouldn't recommend having the beams on if you don't see them as they are quite tris-heavy.
There is a park version for detailers available here, and a vanilla farming industry version available here.
Technical Stuff:
Main: 476 Tris, 512×2048 Maps
Beams-Submesh (disabled by default): 360 Tris, 32×128 Maps
Main-LOD: 22 Tris, 128×64 Maps
Submesh-LOD: 1 Tris, 32×32 Maps
All three versions of this building share their materials, so using LSM should minimize your RAM-load if you subscribe to the other versions of this building!
A big thanks to Titan for allowing me to use his screenshots!
Like what you see? Why not leave a like then!
You can follow me on Twitter to get notified when I upload new stuff.
If you really like my work, consider a donation on PayPal[paypal.me].