US NAVY MH-60S KnightHawk (Police Helicopter)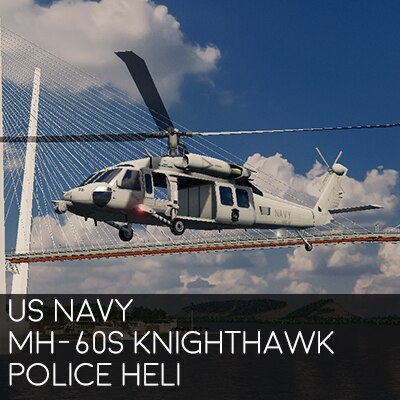 Description:
US NAVY MH-60S PO by WTigerTw
police helicopter
US NAVY MH-60S KnightHawk multipurpose helicopter , model and texture by WTigerTw. MH-60S is the primary multi-role helicopter use by US NAVY. It is mainly deployed on carrier and transport ship, and can conduct resupply, mind cleaning, spec-ops transport, Anti surface warfare and CSAR mission. The frame is developed from UH-60L Blackhawk, while share some similarity with her cousin : the Anti-submarine version MH-60R Seahawk.
rename the vehicle with any custom name can open the cabinet door
statistics
mesh/submesh name
tris
texture
custom LOD tris
custom LOD texture
Fuselage
motionrotor
staticrotor
dooropen
doorclose
8044
1784
1784
1192
1192
1024X1024 d/n/s/i/c
680
N/A
N/A
N/A
N/A
128×128 d/n/s/i/c
Check all other versions of the asset
If you like this creation, please gives it a thumb up, it is very important to me and to have more people seeing my creation.
If you enjoy my creation and would like to give me some support, you can support me via Paypal
Support me[www.paypal.com]
For commissioned work, you can send me a friend request and we can have a discussion.