Ryde Tram Depot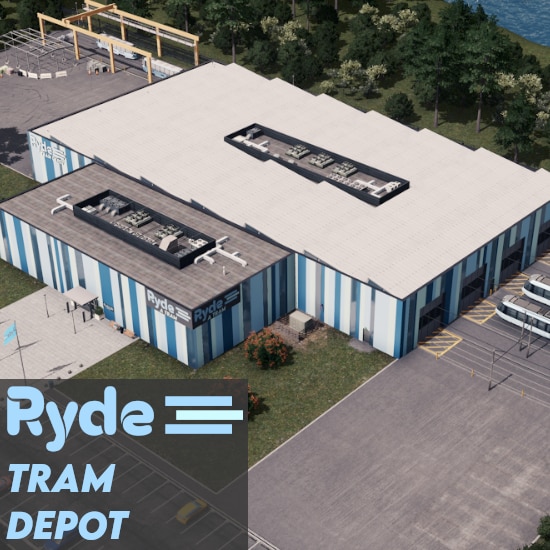 Description:
Ryde Tram Depot + Office

Ryde is a fictional transport company designed to create a generic brand across all of the transport options in the game and beyond
This upload contains a Ryde Themed Tram Depot custom made by CyberScytheX for Ryde. It contains the Tram Depot itself and an office building for administration
Non- Ryde version here
This Tram Depot was inspired by the Tram depot in Utrecht, The Netherlands.
This pack contains a Tram depot, Tram Depot Office building and Ryde Tram Depot props
We recommend that you place your tram depot on perfectly flat ground as height elevations will cause the internal tram roads to appear out the top of the building
For extra optional details, use these Vent and Aircon props to add to the Roof
Vent Props
Air Duct Props
Air duct prop 1
Game stats
The Tram Depot is split up into 2 buildings, the depot building and the office building. They have been made so the tram depot sits behind the office while maintaining a road connection (you may need to tweak it slightly with moveit to get a perfect fit).
The office building acts a unique building while the depot building acts as a tram depot. They both have been modelled with custom and vanilla props which can be removed by using a prop switching/removal mod.
This model is 'Loading Screen Mod' optimised 🙂 (the buildings share 1 map while the props on another)
Search 'Ryde Tram' in the 'Find it' mod to find all the models
Tri count:
-Tram Depot building = 387
-Tram Depot office building = 227
– Fire exit sign = 10
– Ryde office sign = 10
– 2D Ryde A Tram sign = 12
– 3D Ryde Tram Depot logo = 1118, lod = 368
– Tram Depot door = 4
Thanks to Twitch streamer EarlyRav3 for testing and the screenshots
[discord.gg]
Socials
want more or sneak peaks at future releases? check me on
-twitter https://twitter.com/CyberScytheX1
-cities cafe discord https://discord.gg/nE4HfYHWFS
-reddit https://www.reddit.com/user/CyberScythex