The City of Agost [Vanilla savegame]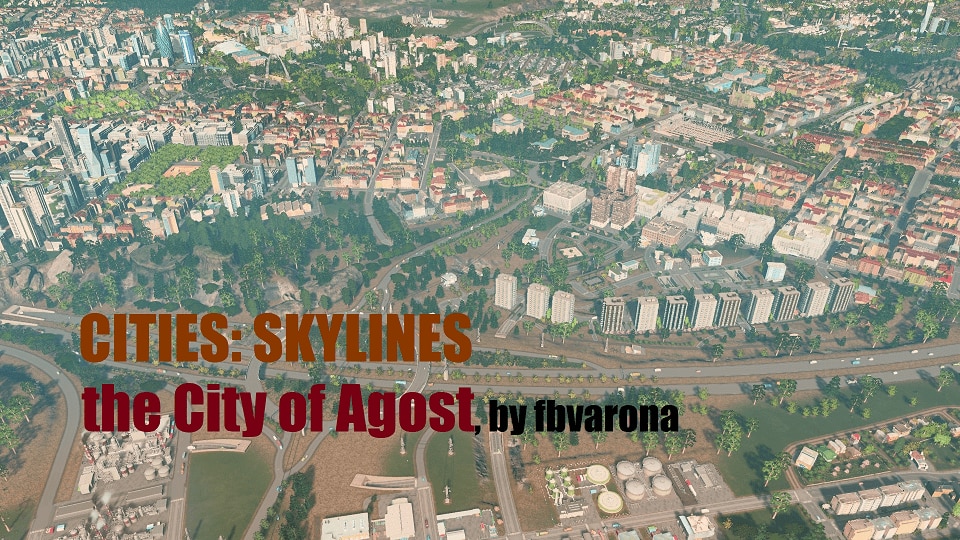 Description:
I introduce the City of Agost, which I have created with Cities: Skylines. This is the second version of the city, now covering most of all the nine vanilla tiles. The city has a population of 123,000, with 3,500 tourists per week. Traffic is around 83%. No mods have been used in the creation of the city and achievements are still available. Also, no assets from the workshop have been used, only several official CCPs and all avaiable DLCs up to Airports. Ground polution has been diminished thanks to the Eden Project Monument.
I started this city in April 2021 and on the date I recod this video I have used as organically as possible all the space available in the 9 vanilla tiles. In this savegame I have tried to cover the vanilla experience of Cities: Skylines to the best of my abilities and it is an excellent oportunity to test the upcoming Plazas & Promenades Expansion. I'd like this video to be a photo-finish of the vanilla possibilities before embarking on the expansion of my City of Agost with the 25 tiles and also with the help of Move It and other essential mods.
Finally I would like to thank many Youtubers who play with Cities: Skylines for inspiring my with so many entertaining tips and ideas:
– Overcharged Egg: https://www.youtube.com/c/OVERCHARGEDEGG
– Biffa: https://www.youtube.com/c/BiffaPlaysI…
– Imperatur: https://www.youtube.com/c/imperatur
– City Planner Plays: https://www.youtube.com/c/CityPlanner…
– R4pela: https://www.youtube.com/c/Rapelagames82
– El Escoces Gamer: https://www.youtube.com/c/ElEscocesgamer
– Chiches: https://www.youtube.com/c/Chiches