4-Lane Avenue, Bike Lanes, Grass Tram Track, Trees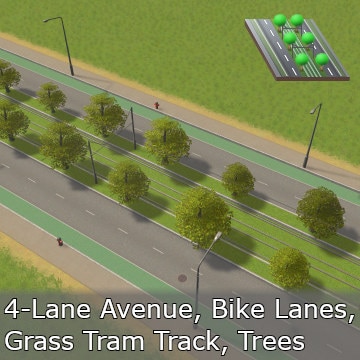 Description:
Four-lane avenue with bike lanes, dedicated tram corridor for rapid transit, flanked by decorative grass with trees.
The tram tracks are on themed grass, except at tram stops.
Features:
Avenue with 4-lane 2-way car traffic
Bike lanes for both directions
Dedicated grass tram tracks in the middle
New vanilla tram tracks
Themed grass for ground segment
Trees can be changed
Speed limit: 60km/h
Acknowledgments:
This asset is based on work from @cylis, which was inspired by New Roads for Network Extensions 2. Thanks for sharing your creations on the workshop, making this asset possible.
Changelog:
Initial release: – Changed textures and LODs for ground segment, stop segments, elevated segment – Adapted mesh for elevated segment/node to accomodate bike lane – Replaced tram tracks with new vanilla tracks – Fixed curb texture mapping for ground segment – Set cost and noise properties similar to vanilla values – Created new vanilla-style thumbnail
Limitations:
Cims may walk on the grass to get to the tram stop.
Stops are only possible on ground segment.
No bike lanes in tunnels.
Variants:
---
If you like this asset, consider giving a thumbs up 🙂