Clone Troopers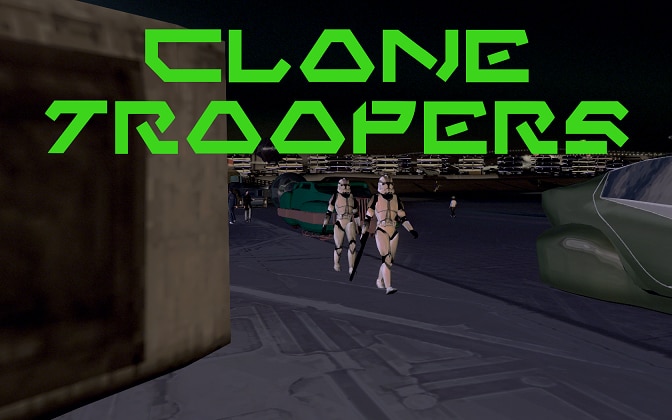 Description:
Clone Troopers (3 Male and 3 Female Tourists)
Orange, Red, Blue; with data pad, blaster rifle, or empty-handed.
Star Wars universe-inspired fan art
Not my original model – found online with the following license information:
Model Information:
* title: Star Wars Battlefront 2 Clone Trooper
* source: https://sketchfab.com/3d-models/star-wars-battlefront-2-clone-trooper-ca41b87a635d4fc9a02f3b7baf33a114
* author: Neut2000 (https://sketchfab.com/Neut2000)
Model License:
* license type: CC-BY-4.0 (http://creativecommons.org/licenses/by/4.0/)
* requirements: Author must be credited. Commercial use is allowed.
If you use this 3D model in your project be sure to copy paste this credit wherever you share it:
This work is based on "Star Wars Battlefront 2 Clone Trooper" (https://sketchfab.com/3d-models/star-wars-battlefront-2-clone-trooper-ca41b87a635d4fc9a02f3b7baf33a114) by Neut2000 (https://sketchfab.com/Neut2000) licensed under CC-BY-4.0 (http://creativecommons.org/licenses/by/4.0/)