1937 Chevrolet 1.5T Truck – Road Maintenance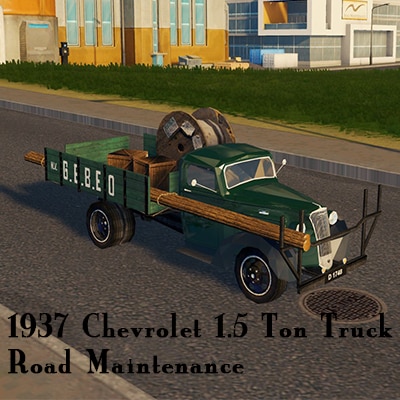 Description:
NV. GEBEO's 1937 Chevrolet 1.5T Truck
A maintenance truck used by NV. GEBEO (Gemeenschappelijk Electriciteitsbedrijf Bandoeng en Omstreken), a company that distribute electricity in Bandung and it's surrounding area. It carries a cable spool, some logs that were being used as a pole, and others support equipment.
The spool model taken from Cable Spool Props by Spence!
The original model of cable spool is from Cable Reels[sketchfab.com] was released under a Creative Commons Attribution license[creativecommons.org] by Sketchfab user Lassi Kaukonen. Full credit and thanks to them for making their work freely available!
Asset Specs
Texture: 1024×1024 d/s/n/i/c/a ||
Tris: 2530 MAIN + 596 SubMesh || 100 LOD
keywords:
Indonesia, Vintage Car, Dutch East Indies, Colonial era, 1930s, 1940s, Chevy, Road Maintenance