Four Gardens 4×4 v2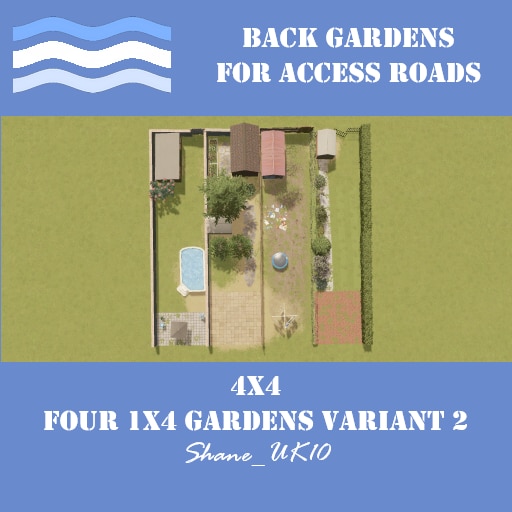 Description:
Back Gardens by Shane_UK10
A collection of four 1×4 back gardens (or yards) combined into one 4×4 park. It can be found in the parks toolbar or using Find It! The name to search for is "SF – Four Gardens 4×4 v2".
It is a niche asset for detailers with many undecorated houses placed using "RICO revisited" and/or "Building Theme Manager". I designed these gardens to make life easier when you have a large quantity of houses to decorate.
Attach it to a service road running behind the houses that must be 4 squares away from the buildings. The gardens are "backwards" with the end nearest the service road furthest away from the housing.
They are for decoration only. They are free to place and have no maintenance cost. They do not change land value, happiness or attract visitors.
Finally, I have used many high-quality assets in these gardens so you will need to subscribe to the Required Items. My creations are a collection of the fantastic assets created by others, so please take the time to like their work too.