Two Gardens 2×4 No Road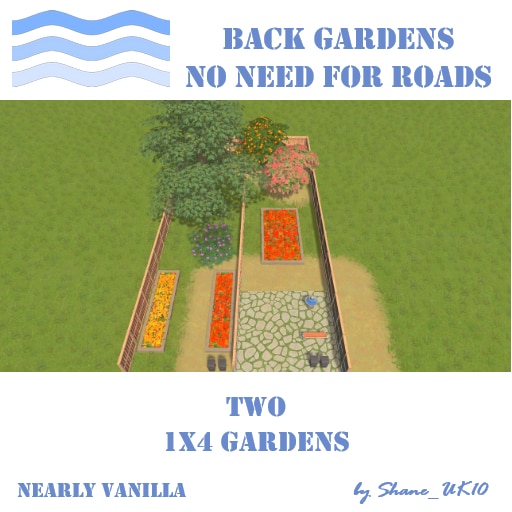 Description:
Nearly Vanilla Back Gardens by Shane_UK10
A collection of two 1×4 back gardens (or yards) combined into one 2×4 park. It can be found in the parks toolbar or using Find It! The name to search for is "SF – Two Gardena 2×4 VNR".
Following a request to create a low asset count version of my gardens, these are my nearly vanilla version. If you want prettier assets, you can use the BoB mod to replace individual elements. The fence can be replaced using the RoN mod.
I think this is a niche asset for detailers with many undecorated houses placed using "RICO revisited" and/or "Building Theme Manager". I designed these gardens to make life easier when you have a large quantity of houses to decorate.
The second change to these parks is they are entirely roadless. You can place them wherever you wish.
They are for decoration only. They are free to place and have no maintenance cost. They do not change land value, happiness or attract visitors.
Thanks to OlexX for showing that roadless parks were possible. Then TPB's guide on how to remove the need for roads.
Links:
OlexX Roadless Parks: https://steamcommunity.com/workshop/filedetails/?id=2571418232
TPB's How to Place Assets Anywhere: https://steamcommunity.com/sharedfiles/filedetails/?id=429744078
BoB Mod: https://steamcommunity.com/sharedfiles/filedetails/?id=2197863850
RoN Mod: https://steamcommunity.com/sharedfiles/filedetails/?id=2405917899