RAILWAY 2 – Chanca Viaduct (Network PACK)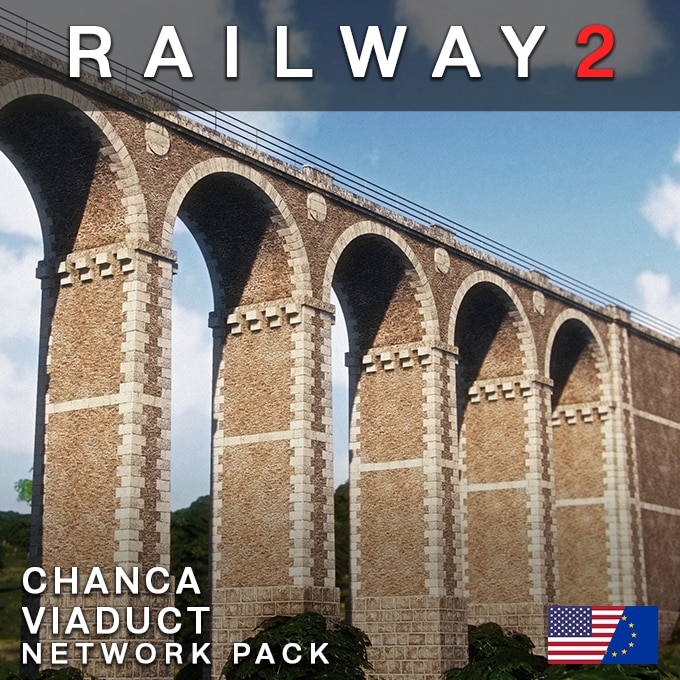 Description:
Galiza, Spain
Railway 2 is a brand new network package which is packed with numerous new features, while maintaining the existing features of original Railway 1 project. It also brings new types of networks such as quads and mainlines. Check Railway 2 Guide in the collection, linked above.
About Chanca Viaduct
Chanca Viaduct is located in the Chanca Valley over the Chanca river, built to allow connecting the railway from A Coruña to Palencia. It's 298m long, 29m tall and has 20 cambered arches, all 9.5m wide. Made from granite and slate.
It was built between 1871 and 1874, and inaugurated on 1880.
This is a network pack, which contains 1 lane and 2 lane width bridges with visual differences. 2 lane variant features a large concrete casing on top to allow 2 lane track laywork. Originally Chanca bridge indeed get a refurbishment with a concrete casing but it's only to support 1 lane track and electric infrastructure.
– Network PACK, containing 1 lane and 2 lane variants.
– 1 and 2 lane bridges are BI-DIRECTIONAL, use TMPE to customize lane junctions.
– All networks are bi-directional; you can customize lane use and direction with TMPE.
– Wiring height can be adjusted in-game with Adaptive Networks, supports USA and EUR wire standard.
– Catenary styles can also be customized with Railway Replacer.
How it plays:
– Basic elevation of both networks feature custom abutments, that can be enabled with AN.
– Elevated and Bridge abutments have AN options to change wire standard.
– If you don't use basic elevation of networks and connect directly with other R2 networks, you will get generic concrete abutments.
– Both bridges are 1:1 scaled, so not every catenary style works. For USA build, use PRR set, for EUR, any German, Swiss or Spanish catenary style will work as intended.

Textures and materials of track infrastructure are re-cycled from R2 EUR release.

Check the Complete Guide
Keywords: RAILWAY 2, Galiza, Spain, Europe, United States, UIC 60, Concrete, Chanca, Viaduct, Bridge, Adaptive Networks, REV0, REVO, Armesto