Olexx Winter ThemeMix – A theme mix for use with Theme Mixer 2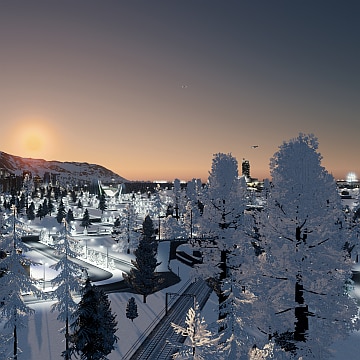 Description:
Olexx Winter ThemeMix
A theme mix for use with Theme Mixer 2 by TPB
I found it very difficult to set the graphics settings in a winter map so that it looks really nice and homely. Now I was finally able to adjust everything to my liking and wanted to share it with you, because maybe you feel the same as me. It works best if the map theme Icy Waters is already selected when loading a map (see first image).
In addition to the settings in Theme Mixer 2, I have also made settings in Relight by Ronyx69, which you can find in the second image.
These are the settings:
I didn't subscribe to the mod Daylight Classic because in my case it unfortunately affects the sunrises and sunsets. I have the phenomenon that one moment it is still light and the next second the sky jumps to night. The same thing happens in the morning. Without this mod I have very nice sunrises and sunsets (see pictures). But maybe you don't have this problem with the mod. If so, I would be very grateful for a hint in the comments.