Climate Control Revisited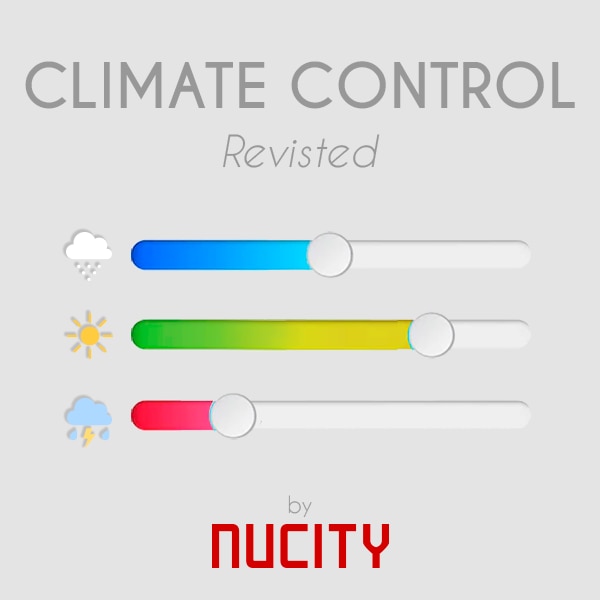 Description:
EN: I really like this mod and since the last updates of the base game it crashes and doesn't work properly. I've been waiting for a long time for a new bug fix but the developer has not yet given a prediction as to whether or not he will keep it up to date. So I decided to make some minor corrections and relaunch again. I own all DLC's from After Dark to Financial Districts plus all creator content.
I am currently subscribed to over 170 mods and Climate Control Revisited works well with all of them. Check the NUCITY – COMPATIBLES MOD + NUCITY – INCOMPATIBLES MOD list.
All technical information and other incompatibilities are on the original mod page.
ORIGINAL MOD: https://steamcommunity.com/sharedfiles/filedetails/?id=629713122
If the author comes to update the mod I will remove this from the workshop.
PT: Gosto muito deste mod e desde as últimas atualizações do jogo base ele trava e não funciona corretamente. Há muito tempo venho esperando uma nova correção dos bugs mas o desenvolvedor ainda não deu previsão se irá ou não manter ele atualizado. Por isso resolvi fazer algumas pequenas correções e relançar novamente. Eu possuo todos os DLC's, do After Dark ao Financial Districts, além de todos os conteúdos de criadores.
Atualmente, estou inscrito em mais de 170 mods e o Climate Control Revisited funciona bem com todos eles. Confira a lista NUCITY – MODS COMPATÍVEIS + NUCITY – MODS INCOMPATIVEIS.
Todas as informações técnicas e de outras incompatibilidades estão na página do mod original.
MOD ORIGINAL: https://steamcommunity.com/sharedfiles/filedetails/?id=629713122
Caso o autor venha a atualizar o mod eu irei retirar este da oficina.
Follow @xnucity on your favorite social media!!!
Support my work, any value is very important to continue creating the assets! Be my patreon!
PT: Você também pode me apoiar pelo Patreon! Seja meu patrono!
EN: The site is the official home of NUCITY, where all information and various materials based on Cities: Skylines are gathered.
There you will find links to download files, tutorial videos of series, images, in addition to unique tools such as the Personalized Search Platform.
Access periodically because there are always updates.
PT: O site é a casa oficial de NUCITY, onde estão reunidas todas as informações e diversos materiais baseados no Cities: Skylines.
Lá você encontrará links para baixar arquivos, vídeos tutoriais de séries, imagens, além de ferramentas únicas como Plataforma de Busca Personalizada.
Acesse periódicamente pois sempre tem atualizações.

[www.paypal.com]
Discord: Nucity#1104