Showa Generic Set 1 (Micro)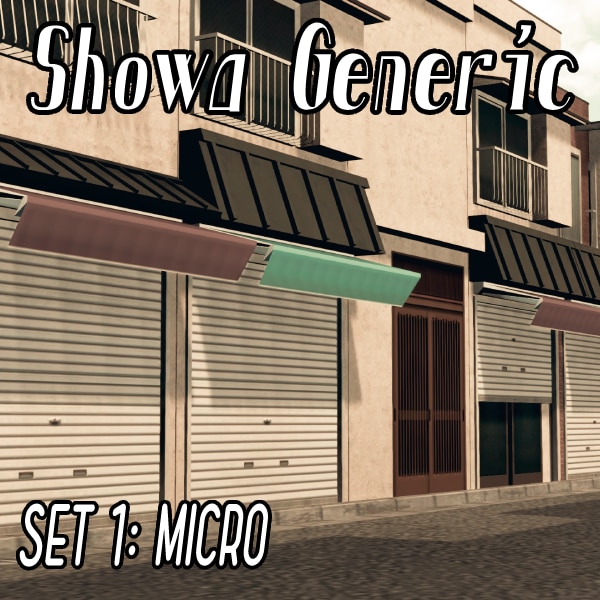 Description:
The first release in a set of late Showa-era buildings. These are the narrowest, coming in at about 2.5m wide. They are loosely modeled after buildings in the Yanaka Ginza and Asakusa areas of Tokyo.
My goals for this series:
No signage. Doesn't stand out, just fills in the gaps.
Maximize randomization. These buildings use single-purpose prop packs and color textures to achieve greater variety. The street staged for the screenshot uses these 4 buildings placed at random. (Placement tip: Use Find It's randomization feature. Plop 3 on each tile, then use Move It's Line Up Objects to space them evenly.)
As few textures as possible. All 4 buildings use the same texture. Most, if not all, future releases will use this same texture as well. RAM dieters rejoice!
---
昭和後期の建物セットの第一弾。一番幅が狭いもので2.5mほど。東京の谷中銀座、浅草あたりの建物をゆるくモデルにしています。
このシリーズで目指したこと。
看板を出さない。目立たず、隙間を埋める。
ランダム性を最大化する。これらの建物は、単機能のプロップパックとカラーテクスチャを使用することで、より多様性を追求しています。スクリーンショットの通りには、この4つのビルがランダムに配置されています。(配置のコツ:Find Itのランダム機能を使ってください。各タイルに3つずつ配置し、Move ItのLine Up Objectsで均等に配置します)
テクスチャはなるべく少なく。4つの建物には、すべて同じテクスチャが使われています。今後のリリースでも、すべてではないにしても、ほとんどがこの同じテクスチャを使用する予定です。RAMダイエッターは大喜びです!
---
Showa Generic (Micro 1)
166
17
Showa Generic (Micro 2)
546
30
Showa Generic (Micro 3)
739
34
Showa Generic (Micro 4)
564
30
All buildings use the same 512×2048 texture (d,s,n,i,a,c).
Tags: jp, japan, 日本, showa, shouwa, retro, レトロ