High Density Condos 2 – São Paulo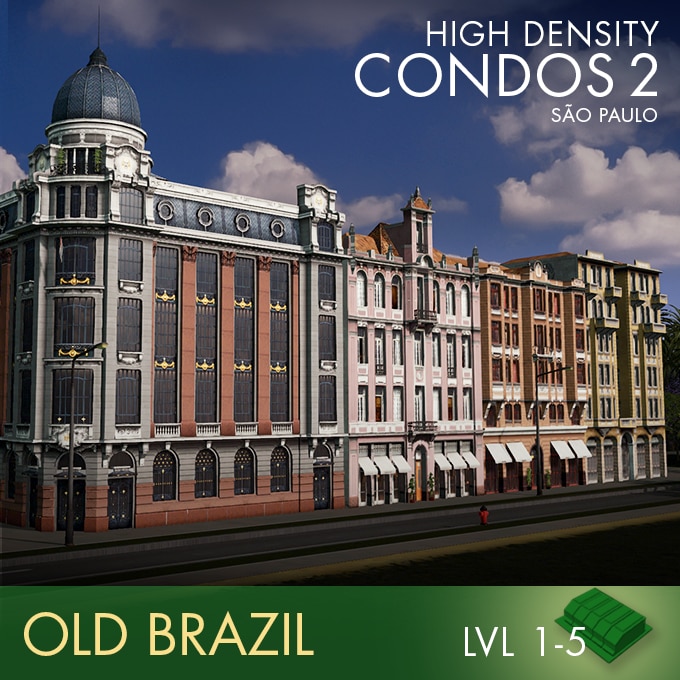 Description:
This pack contains 4 eclectic style high residential buildings from São Paulo. They are variations in new colors of my commercial buildings from Old Brazil Collection. All condos are growable with 5 levels and 4 colors each level, totaling 80 possible building variations for your city.
Textures 1024×1024, Illumination, Specular, Alpha, Normalmap, Colormap.
CCBB
Growable corner 3×3 high commercial
LVL 1 – 12.4K tris, LOD 264 tris
LVL 2 – 13.3K tris, LOD 264 tris
LVL 3 – 13.9K tris, LOD 264 tris
HOTEL PALERMO
Growable wall-to-wall 2×2 high commercial
LVL 1 – 1.2K tris
LVL 2 – 1.3K tris
LVL 3 – 1.6K tris
FLORÊNCIO 279
Growable wall-to-wall 2×2 high commercial
LVL 1 – 1.1K tris
LVL 2 – 1.3K tris
LVL 3 – 1.4K tris
PALACETE SÃO JORGE
Growable wall-to-wall 2×2 high commercial
LVL 1 – 785 tris
LVL 2 – 1.3K tris
LVL 3 – 1.7K tris
Check out more assets in the Old Brazil collection 🙂
https://steamcommunity.com/sharedfiles/filedetails/?id=2879536775