Billboard BIMBO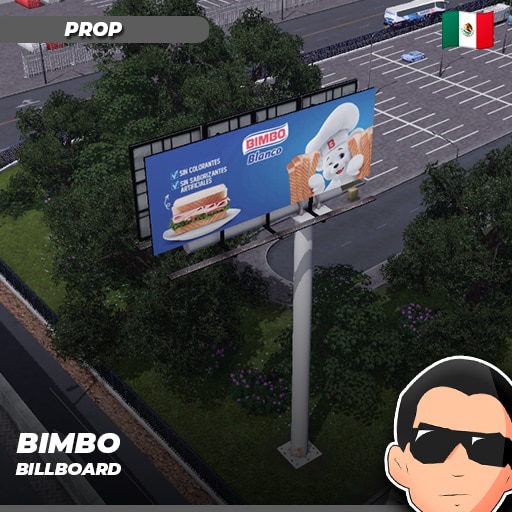 Description:
Model Information
Tris: 588
Textures: 512 X 1024 (D)
You can search for this pack with the "Find It" mod with the name "BIMBO" and you can move it with "Move It ".
Another accessory for Bimbo, now the billboard of this company, you can place it on the side of the road or inside the company.
It is a Mexican multinational company that has a presence in 33 countries in America, Europe, Asia and Africa.
Bimbo is engaged in the production, distribution, and marketing of box bread, sweet bread, homemade pastries, chocolates, snacks, and other products.
I will be sharing extra assets from this company, here below I will leave you the list of all the content, I will add the links when I share those other assets.
– Bimbo Company: https://steamcommunity.com/sharedfiles/filedetails/?id=2930451794
– Billboard Bimbo: https://steamcommunity.com/sharedfiles/filedetails/?id=2933136528
– Bimbo Sales: https://steamcommunity.com/sharedfiles/filedetails/?id=2934828201
– Bimbo delivery truck: https://steamcommunity.com/sharedfiles/filedetails/?id=2936484955
– Bimbo Trailer: https://steamcommunity.com/sharedfiles/filedetails/?id=2933941430
– Bimbo Entry 1 – 2: https://steamcommunity.com/sharedfiles/filedetails/?id=2931365854
– Bimbo Fence:
[www.facebook.com]
[www.instagram.com]
[paypal.me]
[www.facebook.com]
[www.twitch.tv]
[discord.gg]
Thanks to the patrons of the month in Checo Mx: Sean T, Kody Koelling, Alvaro Garrido, Dany Cuba, Blue Thunder, Phil Clark, Unal, Fabian Mercado
Tags: USA, US, América, America, Mx, México, Mexico, Mexicano, Mexican, Tienda, Latino, Bimbo, billboard