The Schofield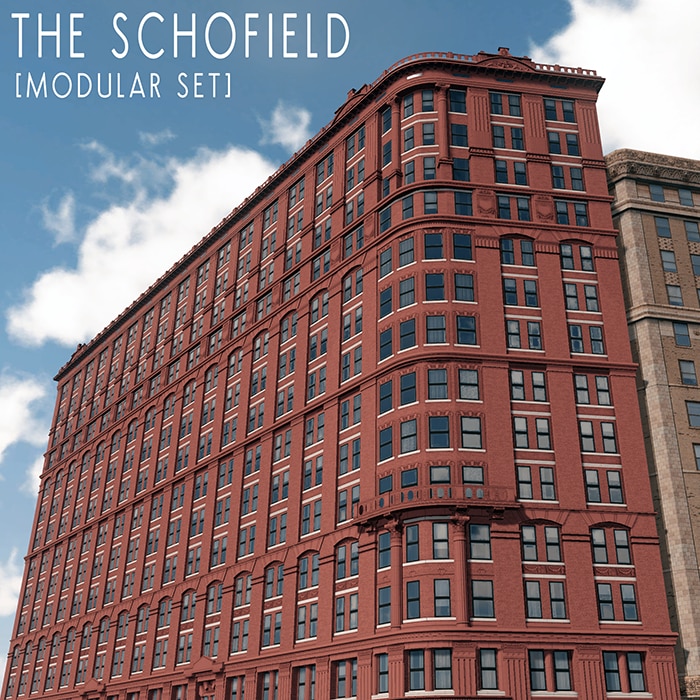 Description:
This is a Beaux-Arts high-rise building located in Cleveland, Ohio. It was built in 1902 as an office building. In the 1960s it suffered a major "renovation", all its decorative elements were hidden behind steel panels and it turned into a boring modernist building. Its original appearance was restored in 2016, and now it serves as mixed-use hotel and residential building.
This is a level 5 high density residential growable set consisting of 4 buildings
About this asset
I divided it into 4 parts: 2 corners, 1 straight and 1 angled part. They are partially aligned to the grid, but you need MoveIt to get best results. You can combine different parts as you wish and make large full-block apartment buildings.
Yes, this building is very red, but you can recolor it using Repaint. All textures are shared, so no need to worry about size. This building has tons of decorative elements, I tried to recreate as much as possible, it was a lot of fun to make them. Hope you like the result.
Stats
Footprint: 2×2, 2×3, 3×3
Category: High density residential level 5
Tris
Map size
Maps
LOD tris
LOD map size
LOD maps
The Schofield 5-1
8618
4096×512*
d/i/n/s/c/a
80
256×128
d/i/c/s
The Schofield 5-2
6809
4096×512*
d/i/n/s/c/a
76
256×128
d/i/c/s
The Schofield 5-3
11049
4096×512*
d/i/n/s/c/a
114
256×128
d/i/c/s
The Schofield 5-4
11410
4096×512*
d/i/n/s/c/a
146
256×128
d/i/c/s
* Shared maps
Special thanks to my patrons:
Andrew, Andrew Frick, Boyet Pierrick, D'Andre Flowers, Finlay, GildedAge, James Leister, JMCPLANS, Maximilian, Nicholas Caughron, Noah Zamora, QuirkedUpWhiteboy, Sean Fitzsimmons, ski_steve, TheGeze3D, WhatsOnSecond
Tags: USA, America, American, 1900s, tenement, brick