Scottish Tenement (Metro Stations Red Sandstone) Assets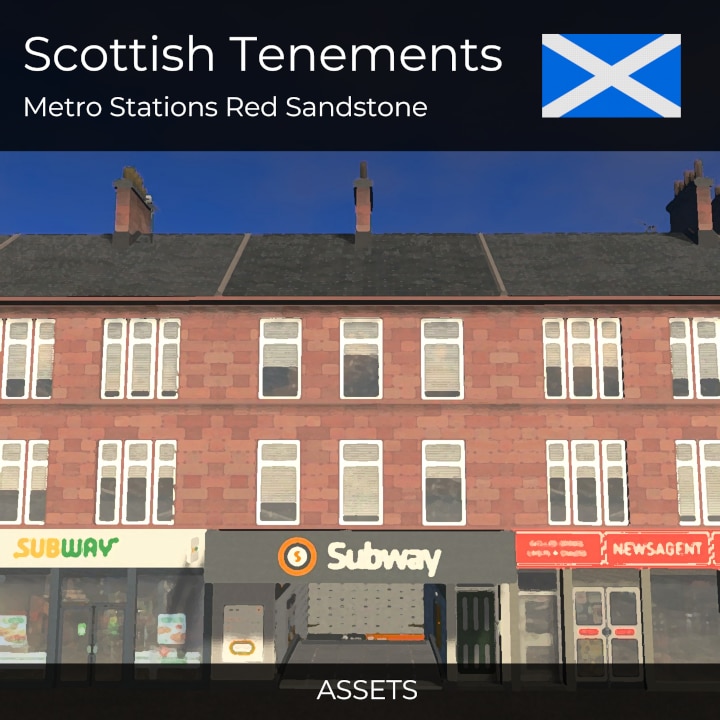 Description:
Set of 2 metro stations based on the traditional red sandstone tenements found in Glasgow, Scotland. Particularly inspired by Kelvinhall station on the Glasgow Subway. Pack contains one three-storey station and one four-storey station (to match the height of any of my other tenement assets).
Using the Loading Screen mod will reduce RAM usage by enabling the game to recognise that the texture files are identical. The decals listed under Required Items are purely aesthetic and are not strictly required.
The main model texture dimensions are 1024×1024. The LOD texture dimensions are 128×128.
Full collection:
1. Residential blonde sandstone version
2. Residential red sandstone version
3. Commercial blonde sandstone version
4. Commercial red sandstone version
5. Medical clinics blonde sandstone version
6. Medical clinics red sandstone version
7. Metro stations blonde sandstone version
8. Metro stations red sandstone version [YOU ARE HERE]