Expressway (Right Hand Traffic)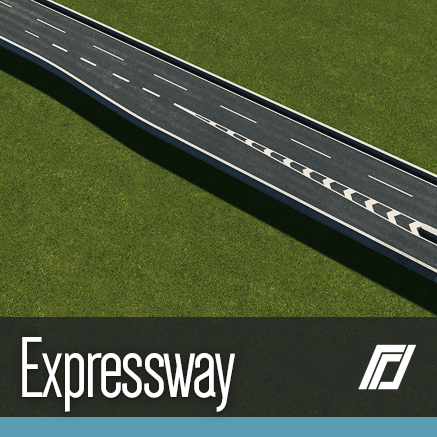 Description:
Includes a set of 23 elevated-only networks inspired by expressways in Tokyo, Japan.
Found in highway roads menu.
This is quite outdated, incomplete and disappointing. I would like to do a completely new and better planned out expressway set in the future, but not sure if I will.
These roads require a lot of manual work. There are a lot of restrictions and very specific rules for how each network is meant to be used. If you don't read and pay attention, you will run into problems.
One of the 3 to 2 transition pieces has no LOD it will never be fixed.
This description is made for the RIGHT HAND TRAFFIC version,
some things may be the other way around for the left hand traffic version:
http://steamcommunity.com/sharedfiles/filedetails/?id=1229517177
Main: 480 – 928 tris / 512×512
LOD: 32 – 384 tris / 64×64
Overall tips:
Work on flat ground and on a grid.
Keep curves continuous, this can be done by holding alt and adjusting a segment curve with Move It!
In many cases a broken curve will lead to broken roads.
Video showing how to make a merge/split where 3L/2L/1L meet:
https://www.youtube.com/watch?v=uHe2_7bBiuw
Pay close attention to the exact distance between the 3L/2L node
and the node where the 1 lane ramp starts curving,
and also the very specific curve the ramp requires to look correct.
It is possible to create splits and merges on curved roads,
but you will have to play around with Move It!
The networks don't autoplace pillars, you have to place all pillars as props manually.
There is also a pillar piece prop pack to put together your own custom pillars.
The stack pillars are made for roads that have an 8m height difference.
There are no lights automatically placed on transition segments or nodes, place them manually.
The lights, lane props, stains and markings are optional decorations.
The only way to connect this network to other roads is by connecting the 2 lane to most vanilla sunken roads.
Therefore, you need to transition on/off ramps to 2 lane before connecting to vanilla sunken roads.
Transition (T) networks must be only one segment. (max build length 12u or longer only using Move It!)
Segment (S) networks can be used continuously.
Left / right (L/R) networks are not centered,
and most have an overhanging visual(for transitions)
or functional(for segments) lane on the indicated side.
Offset 1 lane ramps don't have an overhanging lane,
but they are themselves offset from the center.
This is specifically for extremely smooth on/off ramps.
When cars are using the 1 lane ramp transitions, they will slightly swerve around,
because the lane can't curve with the transition segment. (game limitation)
Thumbnails show the lane count on the right side, (except 1 lane transitions)
bottom being the start and top being the end of the segment.
1 lane transitions show from which to which offset they transition on the bottom.
Explanation for each network: (for left hand traffic some might be different)

S 1
segment: 1-lane(centered)
can intersect itself
can intersect S 2
can intersect S 4 (not recommended)

S 1 L
segment: 1-lane(left-offset)
on ramps on the right side of transition from S 2 to S 3 L (watch video)
off ramps on the right side of transition from S 3 L to S 2 (watch video)

S 1 R
segment: 1-lane(right-offset)
on ramps on the left side of transition from S 2 to S 3 L (watch video)
off ramps on the left side of transition from S 3 L to S 2 (watch video)

T 1 LC
transition: 1-lane(left-offset to centered)

T 1 CL
transition: 1-lane(centered to left-offset)

T 1 RC
transition: 1-lane(right-offset to centered)

T 1 CR
transition: 1-lane(centered to right-offset)

T 1 2 L
transition: 1-lane(left-offset) to 2-lane(centered)

T 1 2 R
transition: 1-lane(right-offset) to 2-lane(centered)

S 2
segment: 2-lane(centered)
can intersect itself
can intersect S 1
can intersect S 4 (not recommended)
can split into S 1 + S 1 (careful)
can merge from S 1 + S 1 (careful)

T 2 1 L
transition: 2-lane(centered) to 1-lane(left-offset)

T 2 1 R
transition: 2-lane(centered) to 1-lane(right-offset)

T 2 3 L
transition: 2-lane(centered) to 3-lane(left-offset)

T 2 3 R
transition: 2-lane(centered) to 3-lane(right-offset)

S 3 L
segment: 3-lane(left-offset)

S 3 R
segment: 3-lane(right-offset)

T 3 2 L
transition: 3-lane(left-offset) to 2-lane(centered)

T 3 2 R
transition: 3-lane(right-offset) to 2-lane(centered)

T 3 4 L
transition: 3-lane(left-offset) to 4-lane(centered)

T 3 4 R
transition: 3-lane(right-offset) to 4-lane(centered)

S 4
segment: 2-lane(centered)
can intersect itself (not recommended)
can intersect S 1 (not recommended)
can intersect S 2 (not recommended)
can split into S 2 + S 2 (careful)
can merge from S 2 + S 2 (careful)

T 4 3 L
transition: 4-lane(centered) to 3-lane(left-offset)

T 4 3 R
transition: 4-lane(centered) to 3-lane(right-offset)
Twitch[twitch.tv]
YouTube
Twitter
Simtropolis (Assets/Mods)[community.simtropolis.com]
Simtropolis (Tutorials/Scripts/Help)[community.simtropolis.com]
Asset Requests[docs.google.com]
My Discord[discord.gg]
Donate[paypal.me]