Vanilla Single Metro Tracks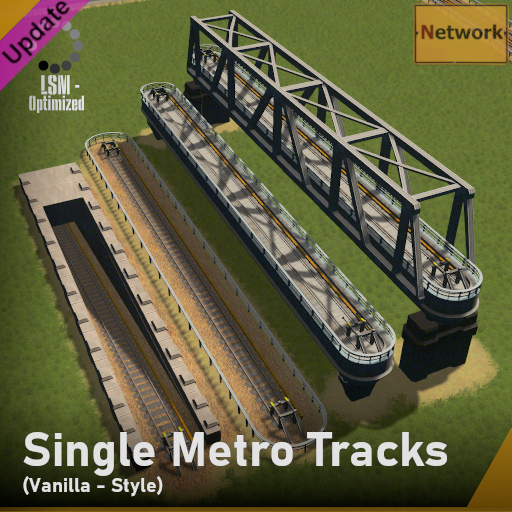 Description:
Vanilla Single Metro Tracks
Prolog
Hello again !
So … I started vanilla and decided to "finish" vanilla ! 😉
These tracks finally close the gap, which was there since Sunset Habor was released.
At least when it comes to "vanilla" ;).
These tracks again nearly drove me crazy … that has nothing to do with the network
itself, but with CO who created the double metro tracks which are part of the game …
More about that down below under "issues and walkarrounds".
About the network
Not much to say about it. These tracks are the same (a bit optimised) as the double
track version which is part of the game. The difference is the obvious one … 😉 they´re
single tracks and come only in a one way version.
Issues and Walkarrounds
So … it might happen, that these tracks won´t connect perfectly to the double track version.
That is something I can not change in any way.
Only CO could change it, via an update of their double tracks, which are part of the game.
The node models are designed in a way, which isnt supported by the game.
I tried to fix it as good as possible, but due to the "game mechanics" there isnt much I can do.
So …. it seems as if you have to live with that… :/
Here´s an example pic, what I mean:
Plus it seems, as if nobody thought about the possibility, that someone tries to create single
versions of their tracks, because the current vanilla station tracks dont support single tracks.
(Also shown on the pic below)
I am going to "fix" that via an update of my vanilla station tracks. I´ll add my own double track versions.
You can then change the station tracks via the metro repöacer mod by Egi and Rev0.
… if you want.
https://steamcommunity.com/sharedfiles/filedetails/?id=2065380745
I´ll also add single track station tracks, which will also be accessible via the mentioned mod.
So … thats it so far ! Have fun with them ! 🙂
Suggestions
As always 😉
Loading Screen Mod – by thale5
https://steamcommunity.com/sharedfiles/filedetails/?id=667342976
All vanilla tracks created by me use the same textures !!
Forgotten thoughts
I´ll add them when they are back … 😉
Epilog
If you like this addition to the workshop… and you want more, you could give it a thumbs up. 🙂
That would be very much appreciated !!! 🙂
Maybe I am going to do more "vanllia" – stuff. We´ll see 😉
For further questions and comments use the comment function below the asset.
If you find issues, mistakes etc. feel free to comment them as well …
And if you want to buy me a cup of coffee to keep me awake during the long night shifts
you can do that here …cup of coffee…[paypal.me] only if you want of course. 😉
Plus, suggestions for other road types or whatever, are always welcome ! 🙂
Wíth best regards … 🙂