Khrysler Homes – The Menoken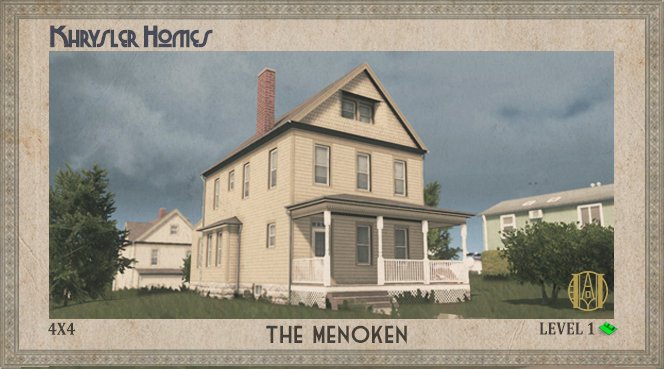 Description:
Khrysler Homes – The Menoken by Khrysler
1920's mid-sized American Folk Victorian style house with a front porch for a growing single family. The building is briefly based on some houses that can be found in Cleveland OH suburb areas. Tried to aim a look that could work in small villages and city suburbs. This is my first test on a new method to create more houses with more variations and less time. 4 lot sizes at different levels are included and minimally decorated. The lots with 2 houses are created, hoping to help anybody reaching the building limit in the game, but they do not sit well on steep hills unfortunately 🙁
It is strongly recommended to subscribe to Loading Screen Mod.
Asset Info:
Growable:
– 4×4 – Level 1 Low Density Residential Building
– 2×3 – Level 2 Low Density Residential Building
MAIN – 1,603 triangles | 1,107 vertices with 256×1024 textures (d,c,i,n,s,a)
LOD – 81 triangles | 94 vertices with 64×64 textures (d,c,i,s)
– 4×3 – Level 2 Low Density Residential Building (2 Houses)
MAIN – 3,467 triangles | 2,401 vertices with 256×1024 textures (d,c,i,n,s,a)
LOD – 168 triangles | 198 vertices with 128×128 textures (d,c,i,s)
– 3×3 – Level 3 Low Density Residential Building (2 Houses)
MAIN – 3,467 triangles | 2,339 vertices with 256×1024 textures (d,c,i,n,s,a)
LOD – 169 triangles | 198 vertices with 128×128 textures (d,c,i,s)