JP Angled Buildings(30/45)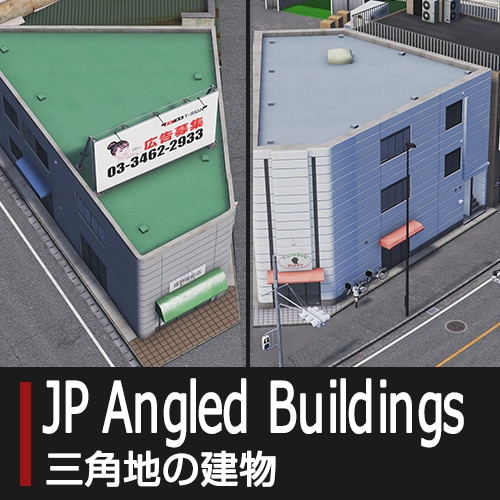 Description:
They are typical buildings in Japan, but these buildings are angled.
Most of the buildings in the actual city are angled, but I think that there are still few in CSL.
I have a 30 degree optician store and a 45 degree pastry shop. The signboards are attached as a sub-mesh, but they can be erased by giving them a custom name. Please use it when you want to decorate yourself.
Since it is expected that it will be a problem if it grows automatically, it is set as a unique building. Please set RICO etc. by yourself if necessary.
Source Files:
https://www.dropbox.com/sh/z15p3bpd4nqhlnu/AACWSgiMNxN7ITKHUX8jczoFa?dl=0
(Feel free to use, but only for CSL.)
About the production request
I can accept asset request with commissions. You can request trains, buildings and props.
Please contact me on discord, twitter or steam for details. I don't accept unpaid asset request.
Donations
If you like this work, please consider donating to me by the author.
*Steam Gift → kaminog/i_works
*Amazon gift certificate → [email protected]
*Support on Youtube → https://www.youtube.com/channel/UCf4FNV0ZYHVV3IgYspBQKOA/join