KRCT Radio [CSL Music Mod]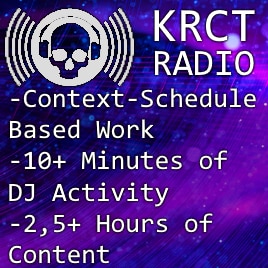 Description:
"You listening the KRCT!"
Time to tune your receivers to Colorado's most geek radio station – KRCT with energetic DJ-sidekick, Steph Gingrich!*
Build your dream city with cool music!
Country, Blues, Indie or Modern Rock – all tracks provides by Life is Strange: Wavelenghs!
About Mod
Listen to Steph Gingrich on fully-functional CSL Radio Station!
KRCT has full functionality provided by CSL Music Mod to fully simulate a real radio station in game. Features include:
Manually configured schedule including blurbs, commercials and talks;
Few sound collections, playing at certain times of the day (morning, day and night broadcasts have a different sets of music);
Custom radio intro in Cities: Skylines original radios style;
Over 2,5 hours of music;
A lively DJ accompanies your gameplay!
Large musical program is diluted with numerous lines from the active DJ Steph, the character Life is Strange videogame series!
Full collections music set:
Morning Broadcast:

David Lawrence and Robert Chaney – Whiskey and Moonshine
Jim Wolfe – All I Know
Jim Wolfe – I Was Born A Rebel
Jim Wolfe – What City Are We In
Manuel Galvin – If You Need Me
Richard Gilks – Jesse James
Shane Franklin Cook – Rocky Mountain State of Mind
Jim Wolfe – Georgia Sky
Jim Wolfe – Your Favourite Song

Day Broadcast:

Rodolphe Richard – When You Go
Ron DeJesus – I'm Gonna Leave You
Wesley Garren – Long Lonely Summer
Stephan North – Out And Down
Ronald Alan Cohen – Run 1
Wesley Garren – Ain't Turning Back
Brian Johnson – Wild Wild West
Eric Starczan – Even More
Rob Cass – Holding On
Tom Thumb – Ghost
Oliver Price – Sweet Release
Pond – Paint Me Silver
Maribou State – Home
girl in red – girls
Soccer Mommy – bloodstream
Researcher – Slow Wave Pulse Code
Agnes Obel – Familiar
alt-J – The Gospel Of John Hurt
Hot Chip – Boy From School
Local Natives – When Am I Gonna Lose You
Uffie – Difficult

Night Broadcast:

Rebecca Leah Harris – To Walk Alone
Adam Jan Janota-Bzowski – Escape
Rebecca Leah Harris – Dharma
Keiran Thomas Merrick – Trouble
Timothy Elliott Larcombe – Modern Age
Deborah Baratelli – Get Ready
Matthieu Devos – The Rain
Sarah Eisenfisz – Like a Wildfire
Robert Charles Edwin Bagshaw – I Want Contact
Harry Valentine – My McQueen
Big Joanie – Fall Asleep
Sunbeam Sound Machine – Talking Distance
Sigur Rós – Sæglópur
Hayley Kiyoko – Feelings
FOALS – Black Bull
Portugal. The Man – Feel It Still
Take part in development!
If you have any ideas how to improve this radio station, mod page design, how to expand the available playlist or even record your own ad – I'm open to suggestions!
Mod Requirements
Mod requires CSL Music Mod only.
Known Issues
If you use mods to speed up time (like TimeWarp), this can cause abrupt track switching when radio station collections need to change each other;
Some tracks has "Unknown" name, since at the time of the release of the mod, their real name was not set in the Life is Strange: Wavelenght files;
Warning!
The character who is the DJ of this radio station is part of the Life is Strange game series, character developed by Deck Nine and games published by Square Enix. All rights belong to their respective owners.
The rights to the musical compositions belong to their creators and/or publishers.
You cannot record video and/or stream with KRCTenabled, as this radio consists entirely of licensed tracks! Use it for your own entertaiment!
Rate this Mod!
If you liked mod, do not forget to rate it, add to favorites and reward!Also leave a comment, your opinion will affect the further revision of the project, if it is refined!
"Stay tuned on KRCT!"