バス営業所+看板Prop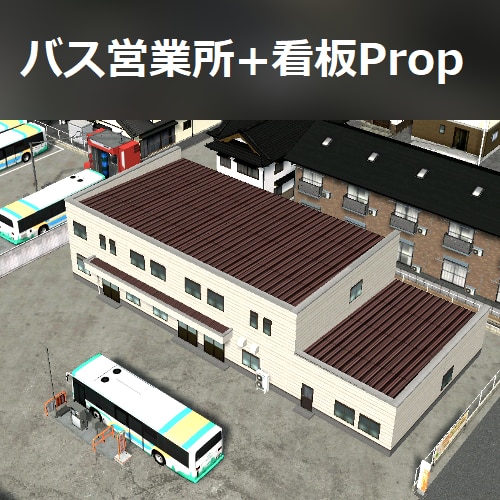 Description:
This is an asset of the bus office.
It is recommended that the ground be leveled with Extra Landscaping Tools beforehand.
JPBS Busstation-01 02 is set with an office, maintenance building, etc.
JP Bus maintenance-c and JP Bus station-c are included separately so that you can freely layout your own sales office.
Six types of bus station-related signs were produced by "001HANNO".
All of them will be displayed when you search for "bus" in Find it!
JP Bus station-c functions as a 6×6 bus station, but it can also be used as an office for a transportation company by using Procedural Objects. (The simulation function will be lost.)
—————————————————————————————————–
バス営業所のアセットです。
あらかじめ Extra Landscaping Tools で地面を平らにしてからの設置をお勧めします。
JPBS Busstation-01 02 は、事務所、整備棟などがセットされています。
JP Bus maintenance-c と JP Bus station-c は、営業所を自由にレイアウト出来るように単体で同梱しています。
バス営業所関連の看板6種類を「001HANNO」さんに制作いただきました。
Find it! では「bus」で検索すると全て表示されます。
単体の JP Bus station-c は、6×6マスのバス営業所として機能しますが、Procedural Objects を利用することにより、運送会社の事務所としても利用できます。(シミュレーション機能は無くなります)
—————————————————————————————————–
支援 / Donate
愛のご支援をどうぞよろしくお願いいたします。
アマゾン欲しいものリスト https://www.amazon.co.jp/hz/wishlist/genericItemsPage/25G998GJLZOBX
アマゾンギフト券→[email protected]