3LOW Road Bike Parking with Tunnel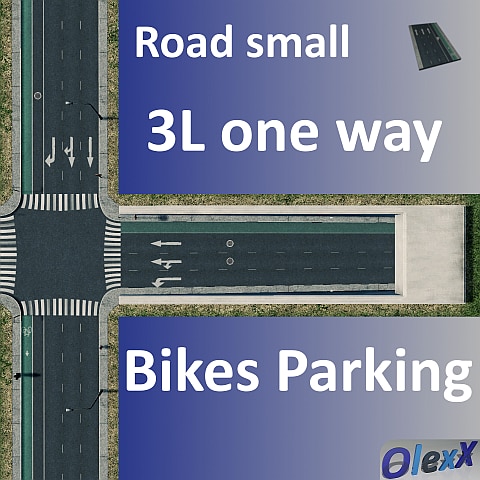 Description:
3LoW Road Bikes Parking incl. Tunnel
(Deutsch siehe unten)
3 lane one-way road with one-way bike lane and parking.
Properties:
2 squares (16m) wide (small road)
speed limit of 60
bus stops are possible on both sides
the bike and the parking lane have the same direction as car lanes
with parking on elevated and bridge segments
all versions (ground, elevated, bridge, tunnel)
without "Asset warnings" in the Loading Screen mod
Because of the bikelane you need the After Dark-DLC.
Enjoy this road.
---
3-spurige Einbahnstrasse mit Einbahn-Fahrradwegen und Parkstreifen.
Eigenschaften:
2 Quadrate (16m) breit (kleine Strasse)
Höchstgeschwindigkeit von 60 km/h
Bushaltestellen können auf beiden Seiten errichtet werden
die Fahrrad- und Parkspuren haben die gleiche Richtung wie der Verkehr
mit Parkmöglichkeiten auf erhöhten und Brückenelementen
alle Höhenvarianten (ebenerdig, erhöht, Brücke, Tunnel)
ohne "Asset warnings" im Loading Screen mod
Wegen der Fahrradwege wird das After Dark-DLC benötigt.
Die Screenshots wurden mit den Einstellungen von meinem
European ThemeMix
inklusive der Relight-Einstellungen gemacht. Die Map ist
Cugassdanox
.
Viel Spaß beim Bauen.