Mogami-class frigate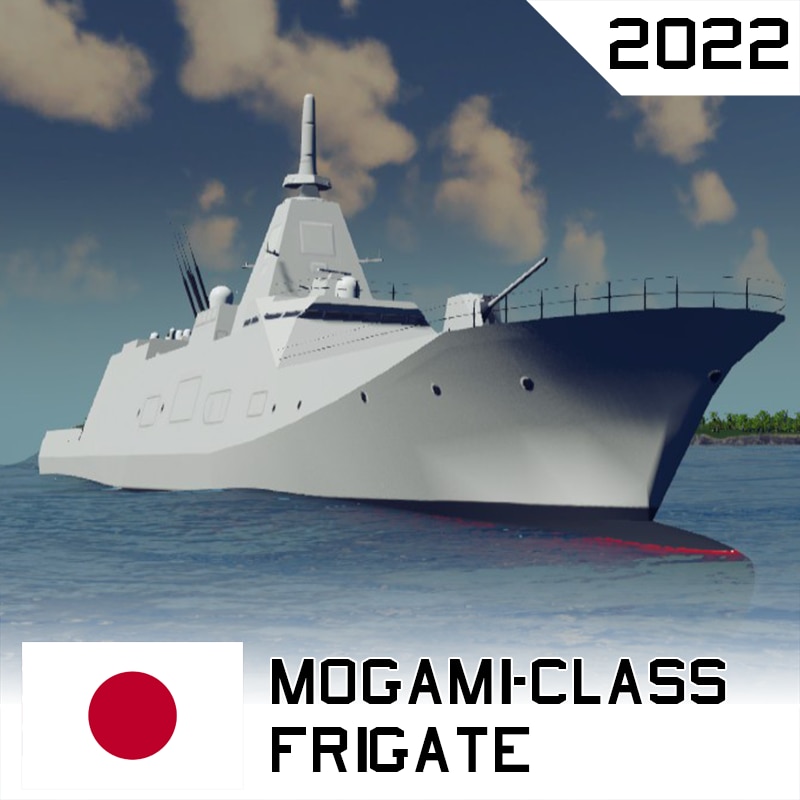 Description:
The Mogami class is a Japanese class of multi-role stealth frigates in use with Japan Maritime Self-Defense Force. The vessel has an overall length of 130 metres (426 ft 6 in), breadth of 16 metres (52 ft 6 in), a standard displacement of 3,900 metric tons (3,800 long tons) with a full load displacement of about 5,500 metric tons (5,400 long tons), and a maximum speed of over 30 knots (56 km/h; 35 mph). Weapons for the 30DX include a Mk 45 gun, two remote weapon stations above the bridge, 16-cell Mk 41 Vertical Launching System (VLS) at the bow, 8 anti-ship missiles, one SeaRAM, an SH-60L helicopter, torpedoes, and decoy launchers.
Source: wikipedia.org
Asset comes as:
– Unique building that can be found in VI category in monument tab and reacts to waves when placed on water.
– Static building under the electric category.
If you like it please leave a rating and if you consider supporting me in my work:
Feel free to send me a friend request for comission work or suggestions 🙂
If you're looking for more modern navy equipment check out my other assets as:
– Visby-class corvette
– Skjold-class corvette
– Blekinge-class submarine
– Columbia-class submarine
– Virginia-class submarine
– Ohio-class submarine
– USS Independence (LCS-2)
– USS Zumwalt
Mesh:
1:1 scale
Tris count – 5952
Textures 2048×2048
Custom LOD mesh:
Tris count – 160
Textures 64×64